---
February is the middle of the tropical wet season, and the remote Aboriginal community of Maningrida is cut off from the rest of the world – cut off by road, that is, so I flew in from Darwin, 400 kilometres to the west. With me was Murray Garde, a brilliant linguist, accredited translator and long-term researcher in the region. My aim was to explore how the Kuninjku people, a community of about three hundred who speak a dialect of the Bininj Gunwok language, understand "the good life." And because I had decided to conduct this inquiry entirely in the vernacular I was glad to have Murray's expert assistance – my Kuninjku is too limited to be immune from error.
I had most recently visited the region towards the end of the dry season in October last year. The contrast was marked. Then, all the bush roads were passable and people were mainly gathered at two outstation communities: over a hundred at Yikarrakkal for a three-week funeral, and another group at Marrkolidjban for a Kunabibi, a regional ritual ceremony that had been running for two months and would reach its finale on the night of the November full moon. Three months later, the monsoonal wet had cut the Kuninjku off from their outstations, a patchwork of tiny hamlets on their ancestral lands in western Arnhem Land.
It was not just the weather that had changed; so, once again, had the volatile Indigenous policy landscape. In December 2014 the federal Indigenous affairs minister, Nigel Scullion, announced that all able-bodied unemployed Aboriginal people aged between eighteen and forty-nine would be required to work for their welfare five hours a day, five days a week, twelve months of the year.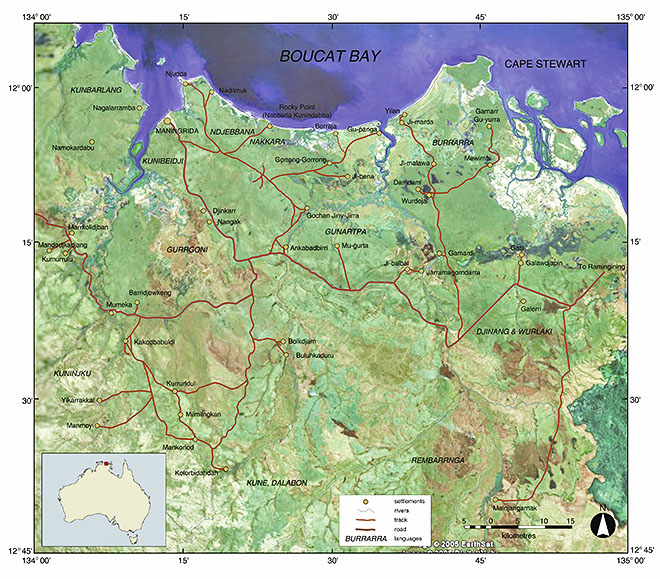 The Maningrida region, Arnhem Land, Northern Territory.
Minister Scullion has since confirmed that there are insufficient jobs in remote Australia to meet the scheme's goals, so people will be forced into "work-like activities." As long as jobseekers are taking part in twenty-five hours of meaningful community activity each week, perpetual work-for-the-dole was not a negative outcome, according to the minister.
The minister also got into a spot of bother for his description of living conditions in some communities. "Many of my communities live on the floor, it is like a cave," he said. "I think that one of the characteristics of civilisation must be that you don't have to eat at the same level as your animals, it must be something like that. I feel very strongly that we should try and provide furniture."
---
During an intense week, Murray and I recorded interviews with a number of Kuninjku, mainly people with whom I had worked since I had lived with them at an outstation called Mumeka in 1979 and 1980 as a young doctoral student. We often found ourselves sitting on the ground as we talked, because being connected to the ground is often a preferred disposition in these lands.
Most of what I write here draws from these interviews, carefully translated by Murray Garde into English, and I will highlight the views of one man, John Mawurndjul, for a number of reasons. John is a senior figure in his community; we have collaborated closely for thirty-six years; and he has a life story that covers a series of policy phases, from the pre-colonial past, before Maningrida was established, to what might be called the neo-colonial present. I will not explicitly identify other interlocutors to protect them from any possible retribution, referring to them instead by their subsection names, the terms that establish relationships between all Kuninjku.
John – or Balang, the subsection name by which he is generally addressed – was born in the bush in 1952, and lived there as a child when his family were self-sufficient hunter-gatherers. In 1963 he was among the last group who moved to Maningrida, in his case for treatment of the early signs of leprosy at the government settlement of Maningrida established in 1957. He led a precarious life at the settlement, and recalls sickness and hunger as a child. In 1972, following his father, Kalumba, he returned to Mumeka outstation as part of the decentralisation movement associated with that period of decolonisation. Over the past five years he has increasingly lived between Maningrida and his own outstation, Milmilngkan, which he established in the early 1990s. He and his family often get stuck in Maningrida without any transport.
Balang is an especially interesting interlocutor because, among the Kuninjku, it is he who has undergone the most dramatic transformation over the years, from hunter-gatherer to internationally renowned artist. His bark paintings of his totemic sites are the subject of several books in several languages, including Claus Volkenandt and Christian Kaufmann's Between Indigenous Australia and Europe: John Mawurndjul. He has won a series of Australian art awards, and in 2005 he was the subject of a major retrospective, Rarrk – John Mawurndjul, at the Museum Tinguely in Basel, Switzerland and then at the Sprengel Museum in Hanover, Germany. In 2006, he was heavily involved, on site, in Australia's contribution to the decoration of the Musée du Quai Branly in Paris. In 2009 he was the first Indigenous artist to win the Melbourne Art Foundation's Artist of the Year award, and not long after that he was inducted as a member of the Order of Australia "for service to the preservation of Indigenous culture as the foremost exponent of the Rarrk [cross-hatching] visual art style."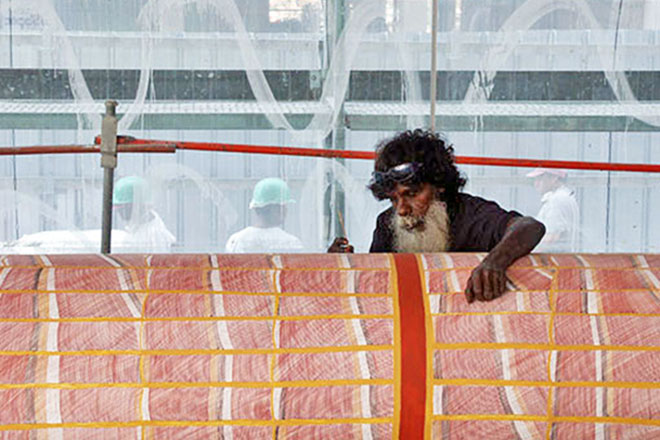 John Mawurndjul at the Musée du Quai Branly in 2006. Ianna Andreadis
Balang was at his peak, living entirely and comfortably on his art earnings. Is this what it means to live the good life? If it was, it didn't last. His fortunes began to decline. The global financial crisis affected sales of his artworks and his agent, Maningrida Arts and Culture, went into fiscal freefall; in 2012, he stopped painting. He had lost his livelihood and, at the age of sixty, had moved onto welfare.
When I asked Balang what constitutes "the good life" for Kuninjku people in February 2015, when he was seasonally marooned in Maningrida, he replied as follows:
Being able to go to your country and being able to live here too, that's the good life. Sometimes going bush, sometimes living here. The main thing is to have enough food. When you have enough food to eat, that's good. I don't change my thinking, and I think about my grandparents and their country. What makes me happy is when I go back to my home out bush and I can go out hunting and I can live like the old people from olden times. That makes me happy, when I'm in my camp. I can paint, I can drink tea and walk around my camp and the sun goes down. Good, happy.

In Maningrida, sometimes happy, sometimes not. I only think about my country. I get sad when I think about my home out bush and I can't get out there. This place here is for white people, but it does give us access to food [from the shops] and to health services at the clinic. We can go bush but the problem is when we get sick or when we have no food out there. So it pushes us to come and live here to get food and health services, but we still want to live out bush. It's a contradiction that frustrates us!

When people are themselves, free to be Bininj [Aboriginal] they are happy happy! When they come to Maningrida to live they become like Balanda [white people]. "Hey you blackfella, you've got everything you need in Maningrida, come in here and live here." But we've got our own country, our outstations too. So I'm still pulled between the two… It all depends on trucks and transport. I'm worrying too much about transport.
Balang's frustration contrasts with what so many Australian governments have seen as constituting the good life for Aboriginal people in remote communities. Tony Abbott, for instance, who anointed himself as "the prime minister for Indigenous affairs" after he took office, attracted considerable opprobrium recently when he supported a WA government decision to defund 150 small communities. "What we cannot do is endlessly subsidise lifestyle choices," he said, using a phrase that generated enormous controversy, "if those lifestyle choices are not conducive to the kind of full participation in Australian society that everyone should have."
The government now proposes to "develop the north" and simultaneously develop remote-living Aboriginal people. The rhetoric is not new – the federal government made similar commitments that failed when it administered remote Arnhem Land fifty years ago. People like Balang experienced at first hand the failure of those policies, as well as the intense political conflict with other Aboriginal groups and the structural violence under the trusteeship of the colonial state. As soon as they could, Kuninjku people escaped this "total institution" and went bush.
The challenge to deliver development and citizenship services to remote Australia is enormous and should not be understated. But it is a gross oversimplification to base policy on the hope that if you just get the kids to school and the adults into some imagined mainstream employment, development will automatically follow.
The size of the challenge can be appreciated if we scale up from the Maningrida region to Indigenous lands Australia-wide. These now cover over two million square kilometres, and they are dotted with what the Australian Bureau of Statistics terms "discrete Indigenous communities." Those communities include townships like Maningrida, which add up to about 200 places on Indigenous titled lands, and nearly 1000 small places like Mumeka, with an average of about twenty residents each.
Developing these communities in accord with market logic is replete with contradictions. Extreme remoteness, small size, poor communications infrastructure, a lack of commercial land value, poor soils – these are among the reasons why Aboriginal people were able to get these lands back under land rights and native title laws. They were unwanted and "uninvaded" lands, and they generally still are – except for their mineral extraction potential, which rarely benefits land owners because they lack property rights in these valuable resources.
---
For Kuninjku people today, "the good life" seems invariably to lie in the past, a past that generally goes back to 1972 and is but a dim memory for many younger people born since. Back then, the now-revered old people led them back to the outstations and revived their hunting way of life, supplemented by welfare and meagre arts earnings.
Over the next thirty-five years this hybrid economy creatively combined the customary, government and market sectors. But it remained dominated by a domestic moral economy, underpinned by kinship relations, in what might be thought of as a relational ontology.
During this time, as they highlight, Kuninjku people were assisted by their own community-based outstations resource organisation, the Bawinanga Aboriginal Corporation in Maningrida, and by Balandas, the white people who were employed, who cared about them and supported their aspirations.
And so Kuninjku people were able to engage with market capitalism on their own terms through their art, mediated by Maningrida Arts and Culture, a business arm of Bawinanga. Bawinanga also engaged with government on their behalf to have welfare payments delivered to outstation residents as a basic income through the Community Development Employment Projects scheme, or CDEP. And so, using these funds and the dollars they earned from art Kuninjku were able to buy vehicles and guns to ramp up their hunting, and to divide their time increasingly between Maningrida, where a few worked, and the outstations. Their interlinked hybrid economy and lifestyle mixed Balanda and Bininj (or Aboriginal) ways to accord with their aspirations.
This hybrid economy started spiralling downwards rapidly after 2007, first with the Northern Territory Intervention and associated policy changes, including the abolition of CDEP, and then with the global financial crisis, which saw returns from sales paid to Kuninjku artists plummet by 80 per cent. Bawinanga was effectively disempowered and depoliticised partly as a consequence of a political battle with the Australian government, partly because it lost the relative autonomy afforded by CDEP.
Once a strength, the articulations between the three sectors of the hybrid economy became a weakness. The arts engagement with the market economy crashed, the mediated relations with government became strained, and Bawinanga, under new management, adopted the developmental rhetoric of successive Australian governments and expanded its commercial operations to such an extent that it became insolvent. Hunting declined alongside reduced access to vehicles and guns, mainly owing to new and excessive police surveillance. And the means of production and sources of subsistence were eroded, with feral animals and dangerous estuarine crocodiles taking over the most productive hunting grounds.
My Kuninjku interlocutors see all this very clearly: they lament the fact that today they barely have enough welfare income to purchase expensive store-sourced food, and are increasingly stuck in town and unsupported when they do spend time at outstations. Colin Barnett and Tony Abbott might deplore the high cost of delivering services to remote outstations, but in the lived reality of Kuninjku people such services are not being delivered.
Kuninjku people see that government policy has changed and so has their Bawinanga Aboriginal Corporation. As another man, Bulanj, put it "why the government rules changed… and why the government came and made Bawinanga do what the government wanted and then they didn't want to work with us anymore. They got tired of us Bininj. They weren't interested in us anymore?."
People are feeling acutely what anthropologist Elizabeth Povinelli has termed "the economies of abandonment." They are deeply concerned about the new generation, which is stuck in Maningrida developing a taste for Western foods and perceived by the older generation, as another Kuninjku man, Bangardi, said, "to lack the confidence to live on country." They feel the contrast with a time when "the old people had the true power to be self-sufficient."
What worries people most is the constant pressure for the new generation to move to Maningrida, transform into Balandas, and forgo Kuninjku ways. As Balang said, "the government wants us to stay here in Maningrida. They want us to come and live in houses here. They make the houses here to attract us."
Kuninjku people are pushing back in two interlinked ways: by maintaining a moral code of sharing with family; and by escalating their participation in a rapidly transforming and hybridised ceremonial life. These are big topics that I cannot address in detail here. But on sharing, let's just say that people continue to participate in such practices mainly with their kin and they value such activity highly. Especially in ceremonial contexts, they are forms of behaviour that are regarded as demonstrating the very best of Kuninjku norms.
Ceremony in turn has changed. Old rituals like Kunabibi, used to discipline initiates through months of seclusion in bush camps, remain, but new ceremonies have emerged, including Yiwarrudj or Christian fellowship. Funerals increasingly mix Kuninjku song cycles with English gospel, largely replacing earlier mortuary ceremonies.
All of these ceremonies constitute work for Kuninjku people, and such work is inseparable from sociality: work at ceremonies as one performs song and dance; work organising and managing ceremonies; and work garnering resources by soliciting anywhere and anyone for assistance to sustain people at ceremonies; and work as ceremony-linked hunting opportunities arise.
Conversely, ceremony provides an opportunity to escape surveillance and training and work supervision, as long as employers or local Centrelink officials can be persuaded that this is all legitimate cultural practice according to government guidelines.
Ceremonies also have a strong integrative function, linking the Kuninjku community with other regional groups to celebrate tradition and to mourn and bury the dead with proper decorum on country. And ceremony allows the Kuninjku to assert their difference and make strong public statements about their exclusive country; increasingly, signs are posted on access roads warning that ceremony is in progress and that any trespassing will not be tolerated.
Yiwarrudj, or Christian fellowship, is especially important in bringing young and old together to dance in front of ghetto blasters for hours on end: these are important ceremonies of hope. Fundamentalism is creeping in too; as another young man, Gela, told us, "Jesus is coming back and will take the Christians up to the sky and the non-believers will be left behind." Many Kuninjku traditionalists worry about the emerging tensions between new Christian fellowship and their custom.
---
Beyond praying to Jesus, what hope is there for a revival of the good life that all our interlocutors saw as increasingly a feature of the past?
At the national political level, there has been an unexpected backlash against Tony Abbott's "lifestyle" comment and his support for the closure of small communities. Even his chief Indigenous adviser, Warren Mundine, referred to the prime minister's "foot in mouth disease" in the national media.
The proposed closures have attracted a storm of protest both nationally and internationally, including at the United Nations. The prime minister's comment unintentionally opened up public awareness and heightened debate in mainstream print and social media. What do people do out there at outstations? Are they really more costly than other Australians? Isn't habitation of remote Australia in the national interest? What are the alternatives and their costs? Aren't there strong social justice grounds to allow people to reside on their lands claimed under Australian law? And can't super-rich Australia afford to support 20,000 people living on their ancestral country?
When I asked another Bulanj man about the future, he responded in this way:
When we talk to each other, we say that we want to teach the young people about the country out bush, but there are too many crocodiles to take them. [A Kuninjku child had recently been killed in a crocodile attack.] And then they say there's no food or the kids get sick. But when we lived out there with the old people, we were fine. We want to explain the country to the young people. All the children need to learn about those places, otherwise there's a disconnection.
As Murray Garde and I left Maningrida in February we got a sense of just how draconian government intervention today can be. On our plane were two social workers taking two Kuninjku kids back to Darwin to their Fijian foster parents. The authorities have separated them from their parents, both of whom I had first known as toddlers, because the children had been medically assessed as "failing to thrive" two years ago. Surely more creative means could be found to address such a problem within the community? Their six-year-old son Narritj has already lost his Kuninjku language and struggled to communicate with his parents. For the Kuninjku there was deep shame in this separation; this is a most devastating deployment of state power for ongoing child removal.
On the next day we visited "the Fifteen Mile," a long-established Darwin town camp which, according to a sign on the main road, has no official name. Here a group of Kuninjku had rented a decrepit shelter, number 5, from Territory Housing. About thirty Kuninjku people were there providing moral support to two family members, Wamud and Bulanj, who were in Darwin for dialysis treatment for kidney failure; some family were visiting with the additional aim of gaining access to alcohol.
Here, on the outskirts of Darwin, the Kuninjku moral economy and relationality were alive and well. People were collecting bush foods in the nearby suburbs and producing art for sale. Families were cohabiting as if at an outstation, sharing everything. One of the sick, a skilled young artist Wamud, a protégé of Balang's, was busy painting his country, some 500 kilometres away, on bark to sell in Darwin.
And finally back to Balang himself. During our visit I raised the sensitive issue of his arts practice, which was again getting some profile in the secondary market. A 2002 bark painting, Mardayin Design at Kukodbebuldi, had recently sold for a record $120,000; under the resale royalty scheme he received none of that amount because this was the painting's first sale since the scheme was established in 2010. But he agreed to return to Sydney to attend exhibitions of his works at the Museum of Contemporary Art and at a major commercial gallery. At the age of sixty-three, Balang is seriously contemplating reviving his arts practice. Even if his career doesn't return to its former glory, he will be recognised as a nationally significant artist rather than being labelled a member of the undeserving poor.
And it just so happened, two months later, that Balang's new exhibition, Rarrk Masters, was a sell-out success; he might even earn enough from a share of sales to purchase a second-hand vehicle to get him back to his outstation at Milmilngkan.
Occasional wins aside, though, circumstances have moved heavily against the Kuninjku community in the past decade after they had moulded, with the assistance of those who shared their aspirations, a vibrant hybrid economy following the dark days of the colonial era.
American critical theorist Nancy Fraser has developed a tripartite schema for gauging social justice, based on recognition, redistribution and representation. Today, the struggle by Kuninjku people for recognition of difference, redistribution of meagre financial resources, and representation of their views by a strong community-based organisation appear defeated. Instead, unsympathetic Australian governments, one after the other, have imposed a program of "improvement" that is disconnected from their realities and aspirations and that is undermining both their livelihoods and their ways of living. For Kuninjku people, the good life seems more precarious today than it has since the colonial era some forty years ago. •