---
Just a few weeks ago, the London Independent published a list of "the most dangerous places in the world to go on holiday." Included in the top twenty danger spots, alongside Iraq, Syria and Somalia, was the small half-island nation of Timor-Leste, just 640 kilometres northwest of Darwin.
My first response was to congratulate myself on my bravery: I have lived and worked in Timor-Leste for the past five years. But that's avoiding the reality that Timor-Leste is no more dangerous a place to live in or visit than most other developing nations to which I've travelled. If this weren't the case – as much as it pains me to admit it – I would simply have been too scared to live here.
Yes, the relatively recent history of Timor-Leste has been violent, largely because of the Indonesian occupation of the territory, from 1975 to 1999, and its aftermath. In 1999, when the people of Timor-Leste voted overwhelmingly for independence, the Indonesians launched a punitive scorched-earth campaign as they pulled out, leaving the nation's infrastructure and its people devastated. Since then, though, Timor-Leste has been rebuilding. Civil unrest broke out in 2006–07, followed by a sustained UN and peacekeeping presence until the end of 2012, so labelling the current era as "post-conflict" is accurate enough. But that word "post" is important. There is no conflict now, nor is there likely to be anything like the disruption or bloodshed of the current wars in Iraq and Afghanistan.
I arrived in Timor-Leste in 2011, alone, as a twenty-something woman. On annual leave from my comfortable but dull corporate job in Sydney, I was looking for a holiday somewhere new, exciting and, to use the cliché, off the beaten track. I had jumped on a plane with little preparation and armed with not much more than the Lonely Planet guide and a sense of excitement. With a mix of flexibility and common sense, I figured, things would work out. And they did. I didn't walk into a war zone, I never witnessed conflict and, walking the streets, freely and alone, I didn't once feel unsafe.
Timor-Leste is not the easiest of places to visit as a tourist – it's not like a quick trip to Noosa – but this is more the consequence of its lack of development than a lack of safety. The one airline service from Australia, Air North, flies only from Darwin, and the cost of the one-hour journey is hardly a bargain. Food and accommodation are expensive, largely because the UN-inflated economy still works off the US dollar. And tourist information is extremely limited. On that first visit I had hoped to find an information centre for advice on hotels, but when I arrived I discovered only a bunch of eager taxi drivers and not so much as a tourist map.
For some travellers, the difficulties of a visit to Timor-Leste will outweigh the rewards, and that's fair enough. For others, it's simply not the five-star destination they are seeking. I've had friends lament the lack of landscaped resorts and well-priced hotels where they can relax by an infinity pool and enjoy a cheap cocktail. Others have said they would struggle to witness the poverty – because, yes, Timor-Leste is still a developing nation. My father responded with shock when I told him there is no golf course – "not one?" – and at certain times of year dengue fever and other mosquito-borne diseases can be a problem. Timor-Leste is not, nor will it ever be, a destination for everyone. But for intrepid travellers looking for a place that's still untouched by the tourist hordes, that has some of the best marine life on the planet and a fascinating culture and history, Timor-Leste is a pretty cool place to visit.
---
This brings me back to the Independent's article. It claims that its information came from a "definitive ranking of risk destinations" published this year by travel security company International SOS and global risk consultancy Control Risks. It goes on to explain that International SOS rates twenty countries as "very high risk," the most dangerous category, and lists Timor-Leste among them. Inspection of the original report, however, tells us otherwise. International SOS and Control Risks rate Timor-Leste as having a very high medical risk, based on the fact of its limited facilities. In the travel-risk category, Timor-Leste is given only a medium risk rating, the second-lowest of four categories. Indeed, the original report puts Timor-Leste in the same travel-risk category as Indonesia, Malaysia and Nepal, and deems it less risky than the likes of Pakistan and parts of Myanmar and the Philippines.
The Independent either failed to notice the different risk categories or chose to ignore them. If this were just an isolated incident of poor journalism, it would be easy to dismiss. But the sad reality is that Timor-Leste's image has been poor ever since the 1999 conflict, and repeated episodes like this one, alongside media coverage that focuses obsessively on the negative, have made it very difficult for the small nation.
As part of my own PhD research, conducted in Timor-Leste in 2012–15, I surveyed Australians' perceptions of Timor-Leste. The purpose was to test whether negative media reports were affecting the image of Timor-Leste, or whether its current reality – as a beautiful and developing tourism destination – was starting to gain ground. After all, tourist numbers are growing, albeit slowly, so there was some optimism among tourism stakeholders that the word might at last be getting out. The survey asked Australian respondents who had never been to Timor-Leste, 316 in total, to name the first three things that came to mind when they thought of the nation. I depicted the results in this word cloud, where the size of word represents the frequency of its mention:
A follow-up question asked respondents whether they had ever considered Timor-Leste as a holiday destination. Just twenty-one per cent said they had. Among those who had not considered Timor-Leste, cost, poor infrastructure, and a lack of knowledge of the country were not decisive factors. Many stated that they were simply unaware it is a destination for tourists and that they had heard or seen little marketing that would entice them to book a trip. The remainder cited concerns about safety. One respondent asked, "But I didn't think tourists were welcome?" Another said bluntly, "I don't holiday in war zones."
In other words, the negative image of Timor-Leste was still fixed in people's minds. But why? Other post-conflict nations in the region have repaired their images relatively quickly, and a growth in tourism has followed close behind. Myanmar and Sri Lanka are recent examples. The current Australian government warning for Timor-Leste advises visitors "to exercise a high degree of caution," which is the second-lowest on the four-tier rating and the same level of caution required for countries such as Indonesia, the Philippines and Thailand. Yet Australian tourists flock to those destinations in their hordes – Bali alone receives over a million Australian visitors per year.
Some people in Timor-Leste's tourism industry argue that the media plays a significant role in sustaining this image. Timor-Leste was front-page news in Australia in 1999, when reports flooded in of the atrocities committed by the Indonesians at the end of their occupation. During its transitional era, Timor-Leste was looked upon as Australia's poor neighbour, a country that needed our aid and the support of our peacekeepers. More recently, the young nation has again been depicted as a poor neighbour, from whom Australia is stealing, some argue, billions of dollars in oil revenue because of a maritime boundary dispute.
Beyond this, what is missing in the media are the good news stories from Timor-Leste: images of the beautiful mountains, its world-class snorkelling and scuba-diving, and its friendly people. While many try to blame the media for this deficiency, responsibility ultimately lies with the Timorese government, and specifically the Ministry of Tourism. In the case of Sri Lanka, development strategies, brochures, destination websites and tour packages abound. Myanmar launched its first ever nation-branding campaign in 2013, with a TV commercial, branding booklet and a new slogan, "Let the Journey Begin."
During my time in Timor-Leste, I worked with the Ministry of Tourism and a lot of passionate tourism operators on developing a simulated destination brand for the country to underpin a new marketing campaign. The presentation, only a trial of what could be possible, was developed through extensive stakeholder consultation that included nearly one hundred separate interviews across three years.
I tested this marketing material to ascertain whether a negative image of Timor-Leste could, in fact, be altered. The same Australian travellers were asked to view the marketing presentation and then asked, once again, to name the first three things that came to mind when they thought of Timor-Leste. As the word cloud below shows, their associations changed dramatically. More importantly, though, the survey probed whether their perception of Timor-Leste had changed overall. Did my respondents still believe the country to be war-torn and dangerous?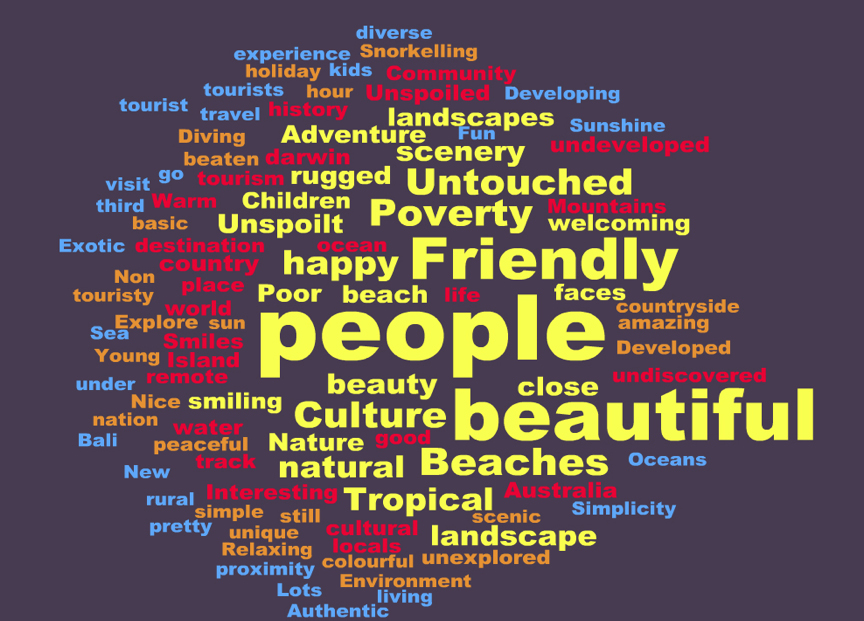 A total of 54 per cent now said they were interested in visiting the destination, with a further 26 per cent saying they would be interested if provided with further information. Only 20 per cent said they had no interest in visiting.
Things are beginning to change. The government of Timor-Leste is working with NGOs and important donor partners in Timor-Leste to develop a new destination website and launch a new destination brand. The hope is that if good stories begin to emerge, then Timor-Leste will shed its former image and finally be known, alongside neighbours like Sri Lanka and Myanmar, as the beautiful, peaceful and exciting destination that it really is.
---
I expect some readers will be thinking that my aim here is to shamelessly promote Timor-Leste, and are wondering whether, despite the picture of peace I try to paint, they might step off a plane into conflict and violence. While I can assure you there is no more danger in visiting Timor-Leste than many other developing nations, perhaps you will not believe me until you or someone you know has actually been there. And in the meantime, reports listing it as one of the world's most dangerous countries will continue to slow the cause.
But if I was to give just one shameless plug for the destination, then I would say this: Timor-Leste is not your typical "island paradise." You will not be waited upon by smiling hosts, it will not be simple to travel around outside Dili, nor will anything you buy or anywhere you stay constitute a bargain. But if you are looking to visit somewhere that is naturally beautiful, culturally rich and not destroyed by hordes of eager tourists, then you should put Timor-Leste on your bucket list.
And until the negative image has changed and news outlets stop misrepresenting the situation in Timor-Leste, you will be able to come home, show friends your amazing photos of friendly locals and stunning terrain, and then tell them, "I've just returned from one of the twenty most dangerous places in the world to go on holiday!" •