---
Buried in the communiqué of last month's Pacific Islands Forum, at item 30, is a single sentence: "Leaders accepted French Polynesia and New Caledonia as full members of the Pacific Islands Forum."
Just a few words signalled a momentous change. Since its founding in 1971, the Forum has been an organisation made up exclusively of sovereign nations, linking Australia, New Zealand and independent island nations. But during their forty-seventh annual meeting at Pohnpei, in the Federated States of Micronesia, the Forum's leaders had decided to welcome two French-controlled territories as full members.
The lack of any explanation or declaration in the communiqué reflects ongoing concerns about France's objectives among some member states, and awareness that other territories might also seek membership. The consensus decision was forged despite calls by leading Kanak and Maohi independence activists to defer a decision, in New Caledonia's case until after a scheduled referendum on independence in 2018.
The pro-French leaders of the two territories welcomed the news. "It's really a great thing for New Caledonia," Philippe Germain, president of the Government of New Caledonia, told me after the announcement was made. "It will certainly allow us to participate in discussions about the management of our region in all sectors: not only the environmental questions that are worrying the whole world, but also issues of economy, health, education and governance."
French Polynesian president Edouard Fritch, who had lobbied independent nations to give his territory a greater role in the Forum, was similarly upbeat. "This decision comes after discussions we've been holding with our friends from the Pacific, where we strongly expressed our desire to become full members of the family," he told me in Pohnpei. "Despite obstacles on the path, the main reality – for us and for most Pacific countries – is that we are Pacific islanders like any other. It's not because we are French that we're in this meeting, but because we're islanders."
Any reasons for excluding French Polynesia no longer applied, said Fritch. "In contrast, many countries see New Caledonia and French Polynesia as a pathway to France and to Europe, for Europe is present here in the Pacific."
The decision has extra historical significance because of the Forum's origins. In the 1970s, a group of independent island states created a new gathering as a response to a ban by France and other colonial powers on political debate within the existing regional organisation, the South Pacific Commission. Leaders like Fiji's Ratu Sir Kamisese Mara and Nauru's Hammer DeRoburt were angry that they couldn't discuss nuclear testing and self-determination for the colonies of the region.
After forty-five years as an organisation of independent nations, though, times are changing. Over the past decade, Forum leaders have been working to expand their engagement with the remaining US, French and New Zealand territories of the Pacific. The decision to upgrade the status of French Polynesia and New Caledonia, bringing the Forum's membership to eighteen, fulfils the vision expressed by leaders in 2004 to better integrate the non-self-governing territories.
Samoan prime minister Tuilaepa Sailele Malielegaoi, a supporter of the change, acknowledged that it was "a political decision." According to the incoming Forum chair, Federated States of Micronesia president Peter Christian, "There were concerns about how we are doing it, but at the end of the day, doing it the Pacific way, we agreed that French Polynesia and New Caledonia have been knocking on our doors for many, many years. One of the things that really helped us make a decision is that most of the issues we're talking about are cross-border issues; they have no respect for political borders."
Not all leaders favoured the change. Nauru's president Baron Waqa and Tuvalu's prime minister Enele Sopoaga are understood to have raised concerns during the leaders' retreat. It was their two nations, together with Solomon Islands, that lodged a resolution to relist French Polynesia as a non-self-governing territory with the UN General Assembly in 2013, ending a sixty-five-year period during which it was absent from the list of countries recognised as colonial possessions. The success of that move was greeted with fury by French authorities because it opened the way for the UN Special Committee on Decolonisation to monitor governance in French Polynesia and the legacies of thirty years of French nuclear testing.
The rapprochement with France has worrying implications for the Kanak independence coalition, the Front de Libération Nationale Kanak et Socialiste, or FLNKS, which has long relied on Forum support in its quest for decolonisation. After the signing of the 1998 Noumea Accord, New Caledonia's elected government engaged increasingly with the Forum, obtaining observer status in 1999. It was joined as an observer by French Polynesia in 2004, and both countries were upgraded to associate member status at the 2006 Forum meeting in Apia. The territory of Wallis and Futuna, another French "overseas collectivity," also joined as observer at that meeting. (After last month's decision, Wallis and Futuna remains a Forum observer, with no clear pathway to full membership.) US territories like Guam and American Samoa gained observer status in 2011.
Since the Noumea Accord and the end of French nuclear testing, the government in Noumea, and its counterpart in the French Polynesian capital, Papeete, have been granted significant new powers and gained the right to negotiate regional agreements in some sectors. Under the French Constitution, however, Paris still controls the military, courts, police, currency and other sovereign matters, and the constitutional power to sign many treaties still remains with the French Republic. Successive governments in New Caledonia – all led by presidents opposed to independence from France – have lobbied to upgrade from associate to full membership of the Forum, even though New Caledonia is not a fully independent and sovereign nation.
The FLNKS Congress in February this year began discussing a revised position on Forum membership. Some leaders from two of FLNKS's member parties, Palika and UPM, support the change as part of the broader regional integration of New Caledonia with its Melanesian neighbours. But leaders from the UC-FLNKS and Nationalists parliamentary group, led by long-time independence leader Roch Wamytan, opposed full membership until after the territory's 2018 independence referendum. Wamytan unsuccessfully lobbied Forum Secretary General Dame Meg Taylor to delay the decision.
Since New Caledonia gained Forum associate membership in 2006, all delegations have included both supporters and opponents of independence. One noticeable feature of the Pohnpei Forum was the absence of any Kanak leaders among New Caledonia's delegates.
---
Last month's decision followed a special Forum ministerial mission to French Polynesia in July 2015, led by PNG foreign minister Rimbink Pato, which assessed Papeete's application for full membership. At the 2015 summit in Papua New Guinea, leaders deferred a decision on the mission's report. A key concern was whether the existing governance arrangements of French Polynesia would enable its government "to participate independently and effectively as a full member, in the full complement of political deliberation, decision-making and commitments of the Forum."
Since then, the Forum secretariat had developed new criteria for membership for consideration at this year's meeting. Despite this, Forum leaders in Pohnpei failed to set out any clear rationale for the decision. Many observers expressed surprise at its timing, but there had been plenty of evidence that pressure from France was mounting.
The issue was raised by France's overseas minister, George Pau-Langevin, at the 2015 Post-Forum Dialogue in Port Moresby. Then, at the November 2015 France-Oceania summit in Paris (held just before the global talks that led to the Paris agreement on climate change), French president François Hollande expressed a hope that the Pacific Islands Forum "could welcome to its breast both New Caledonia and French Polynesia as full members and Wallis and Futuna as an associate member. These three territories will be our representatives." France and its local representatives have lobbied sub-regional bodies like the Polynesian Leaders Group and Melanesian Spearhead Group.
Regional relations with France have certainly improved since the days of nuclear testing and the 1985 terrorist attack on the Rainbow Warrior by French intelligence operatives. Today, France is an active partner on climate change, development programs and EU relations. As a major contributor to the Green Climate Fund, Paris has increased its climate finance for small island states, and President Hollande joined island leaders at a High Level Dialogue on Climate Change in Noumea during his 2014 visit to the region.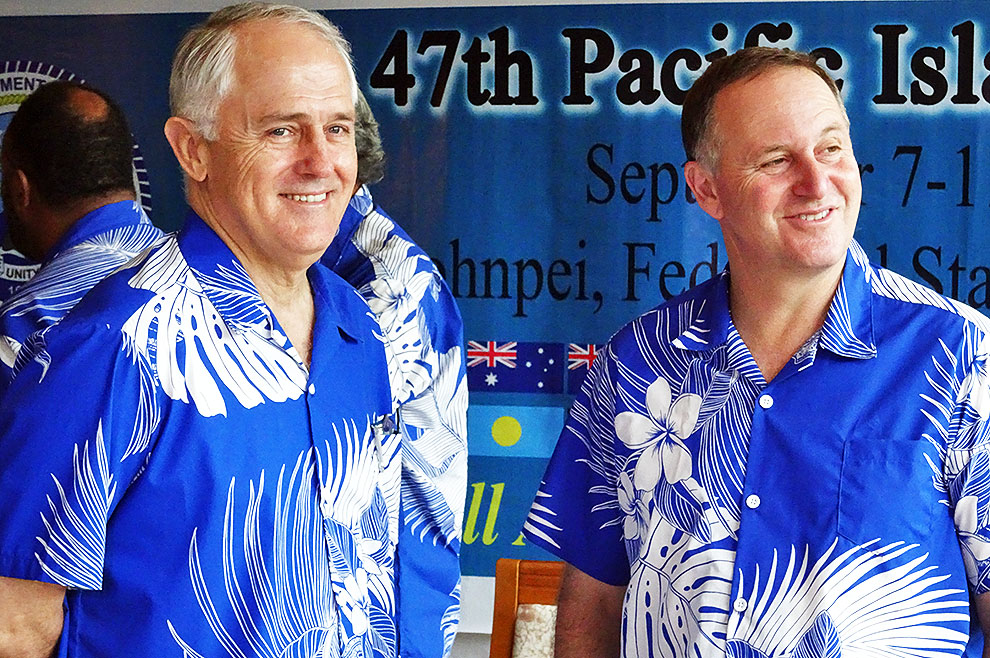 Supporters of change: Australia's Malcolm Turnbull and the NZ prime minister John Key. Nic Maclellan
Through the governments of New Caledonia and French Polynesia and via its own bilateral programs, France has offered to bankroll a range of regional initiatives. President Fritch offered funding for a Polynesian Leaders Group secretariat, while President Germain has offered – and Paris has approved – visa-free travel to New Caledonia for citizens of Vanuatu. Other Pacific island countries have been offered improved air services and support for civil aviation, a crucial concern for smaller island states lacking good transport networks.
Through the Melanesian Spearhead Group, Papua New Guinea has been a long-time supporter of the FLNKS. But the PNG government has also been improving its diplomatic and economic ties to France, and this no doubt weighed on Port Moresby's decision to support the two territories' full membership this year. Prime minister Peter O'Neill's state visit to France in June had been a first for a PNG leader. "With our strengthening relationship direct with France," he said at the time, "I hope we will see an increase in business and tourism. France is increasingly our trade gateway to Europe and we would like to see Papua New Guinea become a significant hub for France in the Pacific."
Alongside these political developments, the French energy corporation Total has been expanding its investment in PNG's LNG industry. The company's chief executive, Patrick Pouyanné, travelled to PNG last April, and later announced that his company would strengthen its partnership with Oil Search and InterOil for gas exploration. During his Paris visit, O'Neill and his ministers met with Total directors to discuss a potential US$10 billion investment by the company and its partners in PNG's Gulf province.
Since the 2010 signing of the Joint Statement of Strategic Partnership Between Australia and France, successive governments in Canberra have supported the push for New Caledonia and French Polynesia to become full members, even before a decision on self-determination. Reluctant to be seen as advancing France's agenda, though, Australian officials have left it for others to take the running. During his press conference on arrival in the Federated States of Micronesia, prime minister Malcolm Turnbull declined to respond to questions on the topic.
Under the 1992 FRANZ agreement, Australia, New Zealand and France have long collaborated on maritime surveillance and humanitarian responses in the Pacific. This year, Canberra also announced that the French shipbuilding corporation DCNS had won an A$50 billion contract to build the next generation of submarines for the Royal Australian Navy. The ANZUS allies will now be happy for France to upgrade its involvement in the South Pacific Defence Ministers Meeting, where Paris currently has observer status. (Paris rather than Noumea or Papeete controls all French military deployments in the region.)
In contrast to Turnbull, NZ prime minister John Key was a very vocal supporter of the change. The Key government shifted policy after a visit by French prime minister Manuel Valls last May, the first visit to New Zealand by a French PM since 1991. Key conceded that it was possible to make a case that the two territories don't fit the Forum's criteria for membership, but, he added, "the scale of their activities, the contribution they could potentially make, I think argues the case that they should be allowed full membership." Pacific academics have argued that New Zealand was partly motivated by the hope that this gesture of goodwill might discourage a French veto for Helen Clarke's bid for the post of UN secretary-general.
With other Pacific territories – including Tokelau, American Samoa and Guam – seeking greater engagement with the Forum, Samoa's prime minister Tuilaepa referred to the particular circumstances of France's lengthy campaign for its territories. "There are many others, but these two have a long association," he said. "They've been knocking and knocking and knocking on the door." And if others like West Papua or Bougainville come knocking? "We'll cross that bridge when we come to it."
---
Meanwhile, France seems to be in the Pacific to stay. During a flying visit to Tahiti last February, François Hollande reaffirmed his country's intention to remain a power in the region. "That's another reason for my visit here," he told the Assembly of French Polynesia, "to show that there are no far-off territories of the French Republic – there is only the Republic… You are not far from France, because you are France, because I am here in France."
Some commentators have suggested that France can play a greater role in limiting Chinese power in the Pacific. But French patrol boats in Noumea and Papeete have limited military capacity and are based thousands of kilometres away from current tensions in the South China Sea. Moreover, the governments of French Polynesia and New Caledonia have both welcomed extensive Chinese investment in tourism and other sectors. This year, Noumea has expanded nickel exports to China, as traditional markets like Australia have reduced their imports of nickel ore.
Of greater importance is France's strategic interest in maritime resources like tuna fisheries and deep-sea mining. Seeking to uphold his country's self-image as a mid-sized global power, Hollande has reaffirmed the strategic importance of France's seven-million-square-kilometre Exclusive Economic Zone in the Pacific.
As Pacific governments seek to expand their control of ocean resources, France and other European powers are increasingly interested in the wealth of this liquid continent. "We have to protect the EEZ," Hollande said in Tahiti. "We have to ensure our presence so that no one can come to exploit the EEZ without our consent or authorisation. It's our common heritage – it's yours, it's ours and we share it. So we must ensure that other people can't interfere with part of our territory."
With French presidential and legislative elections to be held in mid 2017 and New Caledonia's referendum on self-determination scheduled for late 2018, there are uncertain times ahead. Meanwhile, start rewriting all the textbooks about governance in the Pacific. •