---
Love Story, a seven-channel video installation by South African–born artist Candice Breitz, was commissioned by the National Gallery of Victoria, among others, and first shown at Kunstmuseum Stuttgart in 2016. More recently, it featured at the 2017 Venice Biennale, where Breitz was one of two artists representing South Africa.
The work shown in Stuttgart and Venice is also part of the Triennial, which opened last week at the National Gallery of Victoria. Or is it? In Melbourne, the work is titled Wilson Must Go. The renaming, just a couple of days before the exhibition opened, is Breitz's protest against the NGV's use of Wilson Security staff.
Wilson has provided guards for Australia's infamous offshore detention centres in Nauru (since 2012) and on Manus Island (from 2014 until October 2017). Wilson staff have been accused of having committed or been implicated in human rights violations, including child abuse, detailed in the Guardian's Nauru files. To use Breitz's words, "Wilson security has violently enforced the imprisonment of refugees and people seeking asylum in Australia's offshore immigration detention centres." She therefore felt that "it would be morally remiss… for me to remain silent in the context of the current conversation that is taking place around the Australian government's ongoing and systematic abuse of refugees."
As she put it on another occasion, "The same eyes that watched over murder, rape and child abuse in the detainment centres where these refugees are held would be watching over my work, these same people would care for my work. This scene became repulsive to me and I just felt the responsibility not only to my practice but also to the interviewees [featured in the art work] and to this museum that has been so generous to me."
Breitz has been careful to stress that she does not have an issue with the NGV, which claims it was not responsible for appointing Wilson as the gallery's "interim security provider" (to replace the previous contractor, which had been accused of underpaying its employees). Under the title, "Why I'm Sabotaging My Own Work," Breitz wrote last week that "I trust that the NGV will receive this gesture as one of solidarity."
Solidarity, if not love, was on display two days after the exhibition opened when the NGV hosted Candice Breitz in Conversation, a ticketed event with Ivan O'Mahoney, director of the SBS reality TV series Go Back to Where You Came From. "I care deeply about this museum," Breitz told the gathering, which included her Melbourne gallerist Anna Schwartz and Simon Maidment, the senior NGV curator who has been Breitz's main point of contact. She also emphasised how "very rigorous" and "very generous" the NGV had been in providing her with information about its relationship with Wilson Security. If anybody had bought a $25 ticket in the expectation of witnessing a controversial discussion, they would have been disappointed. All speakers seemed to share Breitz's view and agree that Wilson must go.
The NGV has not endorsed Breitz's protest — or those of two other Triennial artists, Irishman Richard Mosse and Mexican Rafael Lozano-Hemmer — but it has been accommodating, suggesting that it sympathises with the artists' decision to protest. The gallery's public stance is understandable. Wilson Must Go has generated publicity and allowed the NGV to position itself as a critical voice. In a city such as Melbourne, where many inner-city residents pride themselves on their liberal politics, public cultural institutions can be expected to be sympathetic to asylum seekers.
"It's important for us that the museum remains as a platform for people with all kinds of views and to make those views heard," Maidment explained during another panel discussion on the Triennial's opening weekend. "People like Richard [Mosse], like Candice [Breitz], like many of the artists in the NGV triennial… people who have voices and issues they want to tackle in new and in engaging and emotive ways, and we try to enable those voices… And we're thankful that they are willing to engage with us like this, in productive ways."
But while the NGV has not objected to the renaming of Breitz's and Lozano-Hemmer's art works and changes to Mosse's installation, it has apparently been less accommodating when it comes to the Artists' Committee, a Melbourne-based group of art practitioners "that makes collaborative public work around the intersection of money, ethics and culture."
It was the Artists' Committee that first alerted Breitz to Wilson's role. For the past six months or so, it has protested against the NGV's partnership with Wilson. In August, it petitioned gallery director Tony Ellwood to dump Wilson by presenting a letter signed by hundreds of artists. In early October, members of the group covered the art gallery's most prized possession, Picasso's Weeping Woman — in 1986 famously stolen and later returned by political activists — with a black shroud featuring Wilson's logo. Last week, at the occasion of the Triennial's VIP reception, Committee members picketed the NGV entrance.
The Committee claims that the NGV has retaliated against local artists critical of its involvement with Wilson; according to a statement posted by the group last week, two Melbourne artist-run initiatives had been "in discussions with NGV programming staff about participation in the Triennial EXTRA program, but were promptly dropped from the program after they expressed concern about Wilson Security's contract."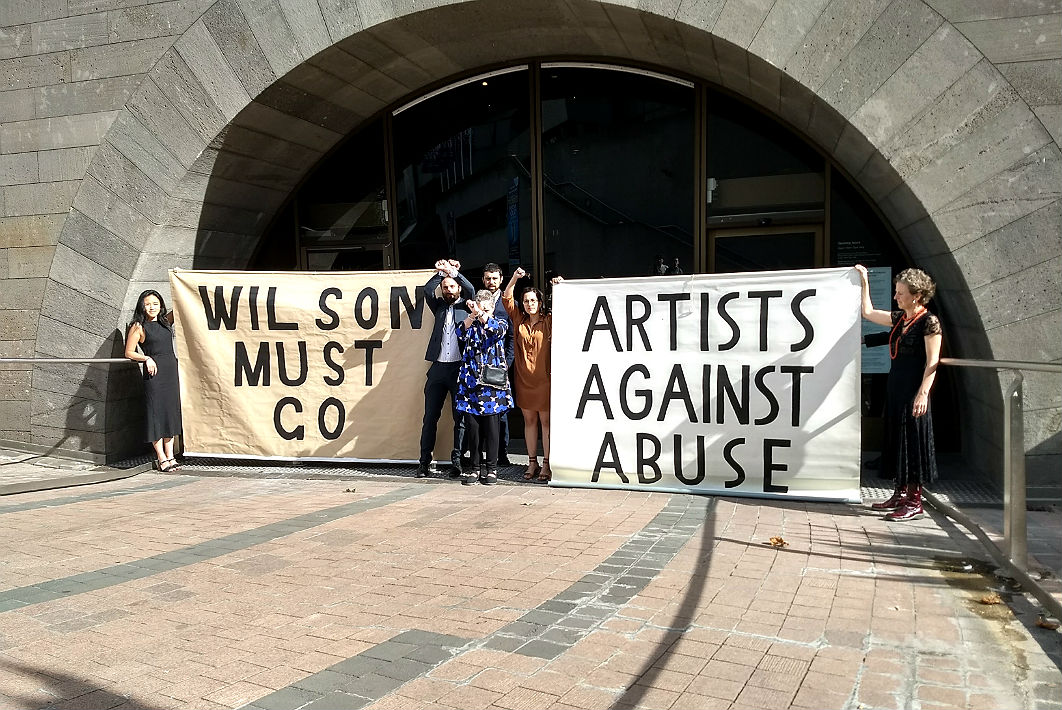 Artists picketing the Triennial opening at the National Gallery of Victoria. Artists' Committee
The NGV has also been careful to frame the protest as an issue to do with the freedom of artists, rather than an issue about Manus and Nauru. It did not object when Richard Mosse amended his art work by incorporating a message from Kurdish journalist Behrouz Boochani, who is currently held on Manus; an art museum sympathetic to his plight — rather than that of artists with a conflicted conscience — might have invited Boochani to join by phone or video link one of the discussion panels held in conjunction with the Triennial's opening. He would have been an obvious choice, because his voice, via an interview with Melbourne writer Arnold Zable, is featured in the Triennial catalogue.
Breitz's own experience also suggests that the NGV's accommodation of the protest is only part of the gallery's response. When she visited the art gallery the day after the Candice Breitz in Conversation forum, she reported: "As I entered the main door, the Wilson security guard posted at that door audibly got on his walkie talkie… 'She's carrying a "Refugee Rights Bag,"' he told the person on the other side. The museum has me under surveillance."
The bag that had attracted the guard's attention was one of 5000 tote bags handed out at the Australian pavilion during the preview of this year's Venice Biennale. Advertising Tracey Moffatt's "My Horizon" solo show, the bag is emblazoned with the words "Refugee Rights" and "Indigenous Rights." When Breitz "had a quiet chat" with the Wilson guard, he told her "that he and his colleagues were under strict instruction to report anyone who looked like they might have 'political overtones,' and especially anything to do with the 'whole refugee thing.'"
---
The Triennial has five broad and unconnected themes: movement, change, virtual, body and time. Breitz's installation, categorised under "movement," is located in two adjoining rooms on the gallery's third floor.
The visitor first enters a space resembling a movie theatre. On a large screen, the Hollywood actors Alec Baldwin and Julianne Moore perform the narratives of six refugees. The visitor is made aware of the dynamics of representation and attention. Breitz reminds her audience that the experiences of refugees are not as highly valued in the "attention economy" as the fictional stories produced and disseminated by Hollywood. The fast-paced montage produces an awkward — and involuntary — dialogue between the two actors, in which different parts of the world, different kinds of borders and different reasons for fleeing one's country become interwoven.
Only by passing through the space featuring Baldwin and Moore can the visitor enter the second space of the installation. Here, six television screens and accompanying headphones allow the visitor to sit across from the six refugees and listen to their stories. Each of the six testimonies is several hours long and screened in its entirety. The work engages with the multiplicity of being a refugee and in doing so potentially makes the spectator identify with the predicaments of displacement: anyone, including the spectator, might be forced to flee.
Breitz's work is a thoughtful comment on our lack of attentiveness to the voices of people with whom we have little in common, and our propensity to tune in to the voices of celebrities. Her renaming of Love Story suggests that she is similarly attuned to the attentiveness towards herself as a critical artist, and that the new title functions to clarify her position, rather than sabotage her work, as she claimed when explaining her decision to protest. In other words, for Mosse, Lozano-Hemmer and Breitz, the reframing of their works may have been more than an attempt to avoid being "morally remiss." The knowledge of the Wilson controversy in the Melbourne art scene created a context in which their art might have been misread.
Breitz expressed surprise that none of the Australian artists whose work is part of the Triennial was willing to join the protest. On the day of the Triennial's opening, she commented on her Facebook page: "What I've learnt about Australia so far: You can put a lid on things here. Most people are willing to look the other way. Most people are comfortable remaining silent."
One of the silent artists is Ben Quilty. His work — the painting of an orange life jacket he picked up on the Greek island of Lesbos — was also prompted by the issue of forced displacement. In a review for the Guardian, Brigid Delaney quoted him as saying, "Look at Peter Dutton, it's a disgrace. You have to teach empathy and compassion — and a great place to do that is a gallery or museum, where you have all these children coming through." In this instance, moral outrage directed at the likes of border security minister Dutton seems to do little more than legitimate the aestheticisation of forced displacement.
Breitz's work demonstrates that the representation of the experiences of refugees — or the exhibition of objects representing these experiences, for that matter — does not automatically engender compassion and empathy. But what if a work of art produced awareness — or compassion and empathy, as Quilty claims? Could that be enough?
A visitor to the National Gallery of Victoria, although she might become more aware, more empathetic or more compassionate, would not necessarily act in solidarity with refugees as a result of her visit. That goes also for the artists: an engaged artist like Quilty may feel for the suffering of the people he encountered on Lesbos, but he did not translate his feelings into actions beyond the production of a work of art. Breitz, Mosse and Lozano-Hemmer, on the other hand, faced with the question "Is it really me who needs to act?," decided to go one step further, not least because they could.
We love Breitz's work, applaud her stance and admire her ability to articulate it so well. But we are also unsettled by the silence with which it has been met. This silence seems indicative of the ease with which the protest could be accommodated and appropriated by a major public cultural institution. Instead of serving as a call for denouncing the Australian government's human rights abuses, the reframed art works became exemplars of artists' freedom to have their say. Mind you, the freedom to speak up is not necessarily extended to anybody carrying a bag emblazoned with the text "Refugee Rights."
The opportunity to host the artists' protest allowed the NGV to dissociate itself from human rights abuses in offshore detention centres. It could also be argued that Breitz let not just the NGV and the Triennial's Australian artists off the hook, but also the exhibition's visitors, who applaud her stance because she could be seen to have acted also on their behalf.
The NGV, however, is an easy target for people concerned about Australia's treatment of asylum seekers. Wilson has far bigger contracts. It provides comprehensive security services to Arts South Australia, for example. In Victoria, its government clients include the Department of Human Services and the Department of Treasury and Finance. And of course, Wilson Security is only a subcontractor on Nauru; the human rights abuses occurring there are ultimately the responsibility of the Australian government and of the political parties that have lent bipartisan support to its policies.
But let's finish by returning to those words of Breitz's: "What I've learnt about Australia so far: You can put a lid on things here… But it's hard to put a lid on the world." ●