---
In the vast underground shopping mall in the biggest town on South Korea's Jeju Island, the shop assistant in the cosmetics store is baffled. "The Chinese tourists have just dried up over the past month," she says. "I really don't know why." An ethnic Korean who was born on mainland China and moved here when she married, she's been busy in recent years. Her Chinese-language skills were in demand among Chinese visitors who have flocked to the island, many of them to stock up on the Korean eco-cosmetics that have become so popular in China in recent years.
Early this year, though, business slumped. That's when South Korea confirmed it was deploying THAAD, the American-developed Terminal High Altitude Area Defense anti-missile system, as a defence against the increasingly erratic behaviour of North Korea and its leader Kim Jong-un. Beijing argues that THAAD will enable the United States and its Korean allies to spy on (or even challenge) China's own military, and is reported to have ordered many travel agents to stop providing tours to South Korea. China's National Tourism Administration is suggesting that travellers consider other destinations, and the Chinese media has boosted the trend by stirring up a wave of anti–South Korean sentiment. Despite China's overtures of friendship to its neighbours at this month's One Belt One Road summit, it's a reminder that Beijing is still willing to deploy the belt and the rod when it believes its interests are being threatened.
The recent tension is a dramatic and unexpected twist in relations between the two nations, which have grown increasingly close since they established diplomatic relations in 1992. Despite Beijing's traditional links with North Korea, trade with the South has grown rapidly, with the two countries' shared distrust of Japan helping to draw them together. Over the past decade or more, many young Chinese people have fallen in love with Korean popular culture, from TV dramas to Korean pop music, or K-Pop, online games and fashion. It's led to a boom in tourism to South Korea, which last year became the leading destination for Chinese visitors in Asia.
For Jeju, a quiet, green island off the nation's south coast, the drop-off in Chinese tourism has had a particularly big impact. Once it started offering visa-free access and duty-free special offers to Chinese tourists in 2008, tourism from the mainland grew exponentially. More than a dozen flights began to arrive each day from Shanghai, just over an hour away by plane. Some three million Chinese visitors a year make up 85 per cent of the island's tourist trade, with many young people, obsessed with Koran popular culture, seeing it as a romantic place to visit.
Aside from its beaches, hotels and natural environment – including UNESCO-protected volcanic lava tubes – Jeju has developed a wide range of attractions to cater for its visitors: from horseriding and camel trekking to submarine trips, along with museums on themes including (in no particular order) cars, Greek mythology, African art, Korean pop music, shellfish, citrus fruit, sex and health, ornamental rocks and teddy bears (two of the latter, in fact). It's home to the World Seashell Museum (with "more than 7800 works of seashell art"), the World Liquor Museum, and something billed as "Korea's Only Lightning Museum." The eco-cosmetics brand Innisfree, big in China, has its own visitor centre up in the hills, and sites featured in Korean TV dramas also attract visitors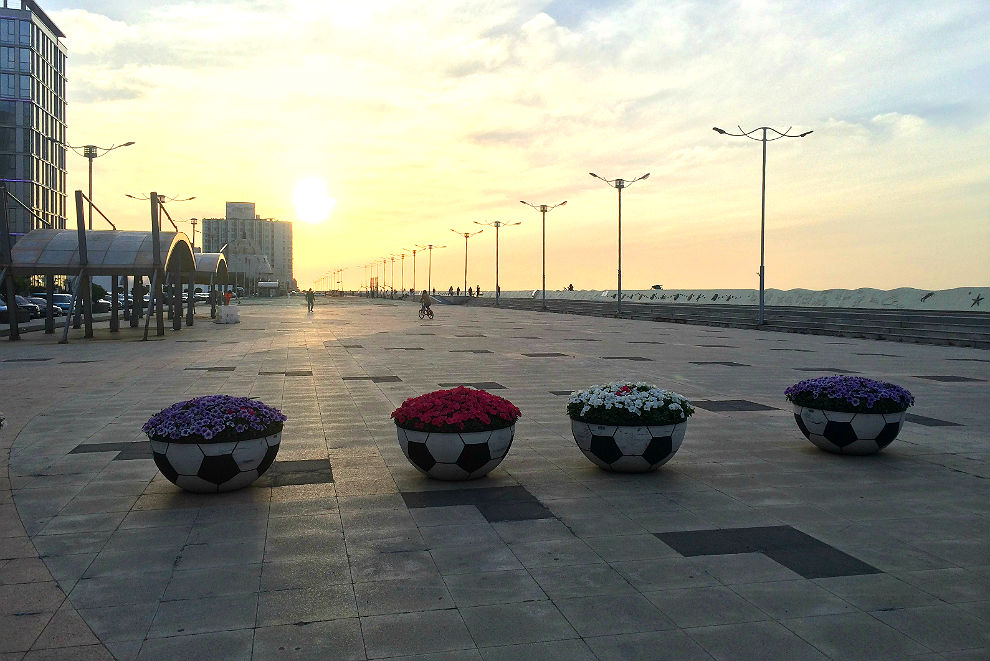 Hard power: an almost deserted Jeju City waterfront. Duncan Hewitt
The relationship has had its ups and downs, of course. Last year, an attack on a restaurant owner and a murder by a Chinese visitor prompted a local petition to restrict Chinese access, and a small number of mainlanders were later denied entry at the airport. But there is no doubt that Chinese tourism has contributed massively to the island's economy.
At Jeju airport, the signs are in Korean, Chinese and English, with ads in Chinese for shopping destinations and the newly opened Oriental Casino. Taxis offer a free hotline providing Chinese interpreting; downtown, shops have signs in Chinese offering Korean cosmetics, medicine and ginseng. Yet the Chinese airline I used has cut its three flights per morning to just one. My original flight was cancelled; the one I was rebooked on was only half full. At Jeju's international cruise ship terminal – where 3300 Chinese tourists famously refused to alight for a scheduled visit in March, and many cruise ship visits have since been cancelled – an official looks downcast. "I hope the Chinese tourists will be back soon," he says.
He's not the only one hoping: on the normally bustling Raw Fish Street on the waterfront in Jeju City, a restaurant with a sign reading "Can speak Chinese language" (in Chinese characters, of course) stands empty in the early evening, as does a nearby restaurant with a sign in Chinese advertising fried chicken and beer, a Korean soap opera favourite.
Not all the Chinese visitors have disappeared: a few cluster round the deep-fried crab stalls in the city's huge fish market. One fashionable young Chinese couple are discussing why there are so few of their compatriots here. "This dispute is not really anything to do with ordinary people," says the woman. "Yes," says the man, "it's politics."
There's no doubt the Chinese government has been playing hardball on the issue. And it's a tactic Beijing has used before – in relation to Hong Kong, following anti-China protests in 2014–15, and Taiwan, following last year's election of president Tsai Ing-wen, of whom Beijing is suspicious.
---
But perhaps the bigger question is whether the Chinese authorities actually have the power to persuade members of a young generation who've become obsessed with Korean pop culture to fall out of love with the country. If they do, that would represent something of a triumph for a government that is working hard to convince China's young people to remain patriotic and loyal to the party, despite their ever more diverse interests and better access to information via the internet.
At times, China's "Korean wave" has seemed unstoppable. Not only have K-pop and TV dramas captured the hearts of Chinese millennials, but their influence has led to the popularity of almost anything South Korean, from makeup and food to Korean-style facelifts. Korean stars have been in high demand to appear in advertising by Chinese companies seeking to attract young people. Chinese television has imported not just Korean-made drama series, but also Korean reality formats, including the popular Mamma Mia, in which mothers show off their talents as singers and entertainers, and Dad, Where Are We Going?, in which celebrity fathers have to look after their children on holiday. And if Korean dramas are sometimes criticised for their bland plot, their popularity is such that China's state media have enviously debated how South Korea has succeeded in winning such "soft power." Even China's official military newspaper last year suggested the country should copy a Korean TV series that was believed to have made joining the army more fashionable.
Apart from anything else, Korean culture has been seen as something politically safer for China's young generation to emulate than the pop culture of China's old rival Japan. But that changed sharply after South Korea began talking about deploying THAAD last year. Although some international experts have argued that THAAD actually poses little threat to China, and that Beijing's response has been out of proportion, this hasn't prevented the Chinese media's onslaught against South Korea.
In China, the impact can be seen in angry denunciations of South Korea in online forums. A number of Korean businesses have suffered since some citizens began to boycott Korean goods; among the hardest hit has been the Korean conglomerate Lotte, which had to temporarily close some of its mainland stores and faced a boycott by some online retailers after it gave permission for part of THAAD to be installed on a golf course it owned. Some Korean TV shows have also been pulled from Chinese TV and websites, and some Korean celebrities are reportedly receiving less coverage in Chinese media.
While not everyone is as angry as those in the most strident web forums, many ordinary young people do seem to have accepted the government's argument that South Korea's deployment of THAAD is hostile. "This will definitely have a big impact on young people's attitudes to South Korea," Niki, a university student in Shanghai, said. She knew that her favourite Korean star liked China, so she wouldn't turn against him, but she definitely wouldn't enjoy Korean culture and products as much as she had. "Now I feel the people who make pickled cabbage have pickled brains! It's a real shame," she added. "The person I like is [from] the country I like least."
A freelance writer in her mid twenties from southern Guangdong told me that she had some understanding of why Korea had adopted THAAD. "The Koreans are thinking about their safety – North Korea has launched missiles, so it's natural that South Korean people feel scared," she said. "But I'm Chinese," she added, "so I'm bound to feel differently. It does reduce our positive feeling. I take China's side – my enthusiasm for going to South Korea has diminished greatly."
A Chinese academic media expert, who asked not to be named, said, however, that he couldn't see why people were getting so excited about the missile defence system; he didn't believe it was a great threat to China. And he suggested the strong public reaction was a sign that the authorities were tightening their control over "guiding public opinion" – the new government code-phrase for its use of media and internet for propaganda purposes.
"They're getting quite good at guiding opinion, it's a bit like an advertising operation," the academic told me. "And the young generation don't all understand what's going on. Social media is good for propaganda – it's harder to know whose views a social media article represents, unlike in traditional media. And people repost things at random."
The government has long been known to employ online commentators – "the fifty-cent army" – to support its views, and over the past couple of years the Communist Youth League has called for ten million volunteers to "guide opinion" online. New controls on online news have been announced, and a new internet law gives the government more powers to use against websites doing things it doesn't like.
But not everyone is swayed by the government's efforts. One popular social media account reported that many Chinese pop culture fans had complained there was less news about Korean stars on Chinese websites these days – and that many were unhappy that the popular Korean show Running Man, which features Korean celebrities taking part in a series of competitions, had been removed from Chinese TV and websites. Even the patriotic freelance writer told me that she believed the stand-off "doesn't mean we should block all Korean culture… If the works are good, I'll still watch."
Views like these might give Korea's new president, Moon Jae-in – who has made overtures to Beijing since his election earlier this month – hope that he can improve relations. After Chinese president Xi Jinping congratulated him on his election and Moon pledged to send a delegation to China for talks on THAAD, Beijing sent a last-minute invitation to Korea to join last weekend's One Belt One Road summit, and agreed to bilateral talks in the Chinese capital.
With strong voices in support of THAAD in South Korea, though, the issue may not be so easily resolved. And there's no doubt that the incident has put South Korea's soft power over China's young generation to the test, in the face of the often less subtle power wielded by China's Communist leaders. •