---
Sheila Gunn was travelling on the London Underground in the early days of Tony Blair's government when she had a minor epiphany. The journalist and former press aide to the recently defeated Conservative prime minister, John Major, was recognised by a "youngish professional woman" with, she later recalled, "intelligent, attractive features." The two women had featured in a TV program about the 1997 election, at which the number of Conservative women MPs had fallen to thirteen, lower even than in 1970, while Labour's had soared to a record 101. The youngish woman, Gisela Stuart, was one of the latter.
Gunn had long disapproved of Labour's policy of all-woman shortlists. But her own Tories, she realised, "never seem entirely sure what to do with women." Something had to be done to lift the obstacles. "One talented woman friend searched for a winnable seat for more than twenty years," she wrote. "At first she was told that she was too young, then that she had a young family and so could not devote herself fully to the job, and then, before the following election, that she was too old at over forty. It would be unforgivable for her daughters to suffer the same fate."
Two decades on, there are more daughters on the House of Commons's green leather benches than ever before. To that degree, the face of British politics has become less male (and, a subject for another day, less monochrome). It has been an era of blending in policy, ideas and even personality. Tony Blair's and David Cameron's successive makeovers of Labour and the Conservatives – each spurred by social changes that neither could do much to command – also helped abate the visible differences between the parties. But as the sea in which politics swims becomes much harsher and dirtier, to what extent are women, particularly in the Labour Party, benefiting?
---
From a certain angle, recent events and trends can be construed as a further step towards the promised land of real equality. The three new party chiefs since the United Kingdom voted for Brexit are women. Theresa May's quiet ascent has made her the second female Conservative leader and prime minister since Margaret Thatcher seized those offices in, respectively, 1975 and 1979. Diane James succeeds the bellowing Nigel Farage as head of the United Kingdom Independence Party, or UKIP, ostensibly the referendum's principal victor. And Caroline Lucas returns to the leadership of the Green Party in England and Wales, a position she held in 2008–12 before handing over to the Sydney-born Natalie Bennett, though this time as a job-share with Jonathan Bartley (which admittedly means a halving of the female quotient).
A quick tour of the UK's three "devolved" institutions also suggests modest advance. Of the three largest parties in Scotland's parliament and in the Northern Ireland and Wales assemblies, women lead five, and two of them are also heads of government. (The two are Nicola Sturgeon of the Scottish National Party, or SNP, and Arlene Foster of the Democratic Unionist Party.) Leanne Wood of Plaid Cymru (the nationalist "Party of Wales") sits in the Cardiff assembly; Ruth Davidson and Kezia Dugdale of Scotland's Conservatives and Labour sit in Edinburgh. New UKIP leader Diane James is a member of another parliament – Europe's, in Brussels/Strasbourg – and the two other national women leaders, May and Lucas, sit in Westminster.
These developments indicate how much British governance has diversified since the late 1990s, creating new spaces for local political actors and more variegated policy across the country. Selective all-women shortlists in the SNP and Labour kept the proportion of members of the Scottish parliament at 35 per cent in the 2016 election, though the "Nordic levels" of 1999 remain the high point. That figure compares to 29.6 per cent in the Commons after the national election of 2015, a record high for that institution, yet still only forty-ninth in the world out of 193 states. (Australia's House of Representatives is one place below, though among upper chambers the Senate is twelfth out of seventy-seven on gender equality, far ahead of the House of Lords.)
Wales's assembly is 42 per cent female, London's 40 per cent, Northern Ireland's 28 per cent. At local-authority level, a third of England's councillors are women, while in the other nations the figure hovers around a quarter. In all cases, the Conservatives lag well behind Labour and nationalist parties. In 2015, for example, the ninety-nine women elected as Labour MPs were 43 per cent of the total, the sixty-eight Conservative women MPs just 20 per cent, and the twenty SNP women MPs – who included the Perth-born actor Deidre Brock – were 36 per cent.
Since then, two women have won by-elections for Labour to replace departing men (one being Sadiq Khan, the new London mayor). A further by-election takes place on 20 October to elect a successor to Labour MP Jo Cox, who was killed by a constituent a week before the EU referendum. (The murder trial is scheduled for November.) The leading rival parties' decision not to stand makes it near certain that the Labour candidate, Tracy Brabin, a TV actor and writer, will win. Elsewhere, doors are closing. All three Labour candidates so far chosen for seven mayoral elections to new "city regions" in 2017 are male. Few would bet against a clean sweep.
To add to the current flux, a Women's Equality Party was launched in February, led by Sophie Walker and with support from well-known media professionals. With brand recognition on her side, Walker gained an impressive 5.2 per cent in London's mayoral election. Already, as with most would-be insurgents in a tight electoral system, a pressure-group role looks like the best on offer.
Politics, of course, is not alone in requiring a gender audit. Other professions, and interlinked axes of inequality – class and age, ethnic and sexual identity – deserve the same scrutiny. Women's centrality and visibility in political life, however, carry a distinct weight. They create authority that can, if used well, influence all these areas for good. But data are only one element in the measurement of progress. What happens when other parts stall, or even go into jolting reverse?
---
The question is relevant in a particular way to today's Labour Party, whose members have just re-elected the grizzled Jeremy Corbyn as leader by a large margin in a two-man contest. The challenge came to a head in the fearful wake of the Brexit vote, when Labour MPs, already dismayed by Corbyn's lukewarm backing for the campaign to stay in the European Union, were provoked into cold fury by his nonchalant reaction to the result. Twenty resignations from the shadow cabinet, twelve women among them, were accompanied by a vote of no confidence, which Labour MPs supported by 172–40. Corbyn, fortified by the tens of thousands of supporters who had flooded into the party since 2015, stood firm. An attempt to topple him, less than a year into the post, was inevitable.
Angela Eagle was first to declare, but withdrew after eight days in favour of another resignee, Owen Smith, who had gained more nominations in the parliamentary party, including from seventy-three women MPs. Eagle, brought up by working-class parents in Liverpool, had worked in Tony Blair's and Gordon Brown's governments after being elected in 1992; she is a spiky and witty Commons performer, effective on TV. Smith, elected in 2010, the son of a prominent Welsh historian, was a bland figure with a minimal public profile. The Parliamentary Labour Party has its reasons which reason does not know.
No woman has ever been elected Labour leader. Two deputies have served in an acting role: Margaret Beckett for two months in 1994 after the sudden death of John Smith, and Harriet Harman for four months in 2010 and again in 2015 after the resignations of Gordon Brown and Ed Miliband. The disarray of 2016 seemed propitious for a historic breakthrough. It was not to be. Smith's campaign, valiant if indistinct and occasionally crass, ended beneath the Corbyn juggernaut. Of half a million who voted – 77.6 per cent of those eligible – Smith won 38.2 per cent. Eagle's very presence on the ballot would have changed the nature of the contest. In what way? We'll never know.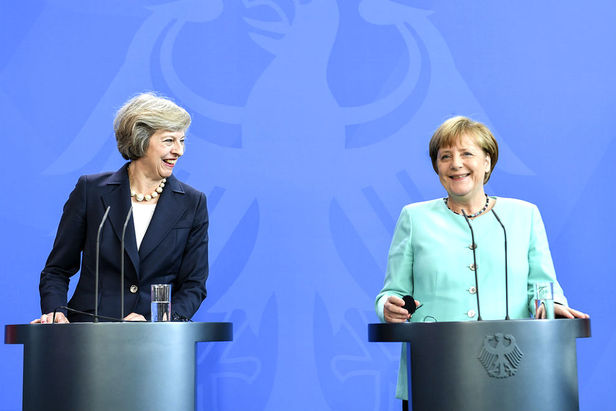 Making waves: British prime minister Theresa May during an official state visit to Berlin for talks with German chancellor Angela Merkel. Tom Evans/Number 10
Labour's inner reluctance even to contemplate giving a woman the top job is a gift to the Conservatives. Since May's anointment, the jibe that her party has thrown at Labour for decades is available for recharge: in promoting women, they say, we are now two-nil ahead of the self-proclaimed party of equality. True, this will have diminishing traction as the new government's troubles congeal. That prospect can already be glimpsed: it is a mixture of the inherited (Brexit), self-inflicted (grammar schools, energy policy), unavoidable (the economy, healthcare) and foreseeable (immigration, security). Yet, as the Tories slouch towards the future, Labour is looking the other way.
One symptom, evident within hours of Corbyn's endorsement at the party conference in Liverpool on 24 September, is the targeting of May herself. She made lasting waves – and internal enemies – when, as chair of the Conservatives in 2002, she lamented the public's perception of them as the "nasty party." She then co-founded Women2Win to elect more Conservative women to parliament. (Labour has only now formed its own mentoring network, in honour of Jo Cox.) And as home secretary for six years, she made a priority of tackling domestic abuse, forced marriages, the trafficking of women, and female genital mutilation.
All this earned no credit among Labour women who – as the Spectator's Isabel Hardman reports – insistently denied the prime minister's feminist credentials at their own conference. Harriet Harman, for example, conceded that May is a woman, but "no sister… [L]ike Margaret Thatcher before her, Theresa May is no supporter of women."
Hardman comments:
[Feminism] is even more important than partisanship. If you start claiming that only women who meet with your politics are real feminists, then you break into the People's Front of Judea when feminists haven't run out of problems to solve… Feminism has to span the political spectrum, otherwise it gets stuck in one party. And given the Labour Party isn't going anywhere right now, that's not much use to the women who still need a politician who'll show them what a feminist in government looks like.
"Those constrained by their own glass ceilings should not throw stones," adds the Financial Times's Miranda Green, a former adviser of the Liberal Democrats. Yet she also notes Harman's remark to the conference that Labour's senior ranks are "raining men," and her confession: "Let's face it, there's not one of us here who isn't smarting."
Labour has a good legislative record on areas of particular concern to women – equal pay, divorce and reproductive rights, maternity leave, childcare – in great measure thanks to tough women politicians like Harman herself. That also required the election-winning Harold Wilson and Tony Blair to take the party into government. Current polls put Labour at around 30 per cent, the ballpark of its two latest defeats. A YouGov survey published on 23 September finds that "on leadership issues like strength and decisiveness, May leads Corbyn by margins of more than thirty points"; another, two days earlier, hears 71 per cent agreeing that Corbyn would not "make a good prime minister." Nonetheless, 64 per cent of women Labour supporters voted for Corbyn in the leadership election, compared with 53 per cent of men. Can that divergence between party and country be bridged?
Moreover, it is internal. A big majority of Labourites who were in the party before Corbyn became leader, 63 per cent, voted for Smith, as did 58 per cent of Scottish members. Populist mantras are in, pragmatic goals are out. The tensions are visceral as well as ideological. And many Labour women are bearing the heaviest load.
---
Politics is tough. The price of the ticket is constant exposure and the need to be resilient in the face of the sharpest criticism. The growth of social media has changed the trade-off: expanding opportunities for personalised abuse or threats, collapsing the barriers to and cost of their spread. Women in many fields are targets. But those in politics have even fewer avenues of escape or, often, systems of support.
Both perpetrators and victims are found across the spectrum. Plenty of people on the vengeful right are in the former category, many Conservative women are in the latter. And women also abuse. But just as, during Scotland's referendum campaign in 2012–14, most aggression came from the pro-independence side, so the deluge of online intimidation in the last year, coinciding with Corbyn's accession, comes largely from his followers. In each case, a permissive environment from the SNP and Labour leadership has been evident. Even now, the phenomenon hasn't received the attention – far less the action – it demands.
The cyberbullying of a campaigning Labour MP, Stella Creasy, in mid 2013 was a harbinger. This accelerated with the parliamentary vote in August not to punish the Syrian regime for drenching citizens near Damascus with a weapons-grade nerve agent, probably sarin. The two attacks on Ghouta, the worst chemical assault since Halabja in 1988, killed hundreds of civilians including many children. Labour MPs who supported a military response to this gross violation of international humanitarian law found their post filling with lurid accusations ("warmonger" was about the mildest), pictures of mutilated babies, and obscene graphics.
A fresh misogynist wave came with the party leadership race, when Yvette Cooper and Liz Kendall stood against Corbyn. By the time of the next spike in December 2015, around a vote to allow the bombing of Islamic State targets in Syria, many women MPs were reporting near constant venom going far beyond the now routine "Blairite vermin" or "Tory scum." The most charged attacks were on those of Jewish origin – Luciana Berger, Louise Ellman, Ruth Smeeth. Much of the abuse was evidently intra-party. That anti-Semitism had long taken root on the "anti-war" left, of which Corbyn is a figurehead, was well attested. Now, sometimes in mutated forms, it was becoming acceptable, even brazen, in parts of the modern Labour Party. For non-Jews too, that realisation was a shivery moment.
Under pressure in June 2016, Corbyn was forced to commission a report on Labour's anti-Semitism problem from the lawyer Shami Chakrabarti. It proved a thin and evasive document, which was followed by Chakrabarti's elevation to the House of Lords and, soon, shadow cabinet. The launch descended to farce when a far-left crony of Corbyn from the 1980s insulted Smeeth, who fled the meeting in distress. Corbyn reacted with the same indulgence as he had at a meeting four weeks earlier, when some of the audience – channelling one of the Corbynsphere's conspiracist memes – booed the BBC political editor Laura Kuenssberg as she asked a question. This was the permissive environment made flesh.
---
Yet another torrent of online bile arrived with the mass exodus from Corbyn's shadow cabinet. Far from refuseniks, those involved had tried to work with the leader for nine months and had left in despair. That didn't save them from the mob. Thangam Debbonaire and Jess Phillips were among those who wrote dignified and pained accounts of their experience in today's Labour Party. A third, Chi Onwurah, commenting on how Debbonaire (whose father is Tamil) was treated, writes, "If this had been any of my previous employers in the public and private sectors Jeremy might well have found himself before an industrial tribunal for constructive dismissal, probably with racial discrimination thrown in."
An open letter to Corbyn in late July, organised by Paula Sherriff and signed by forty-four other women MPs, expressed disappointment at his failure to address intimidation by his supporters, and demanded he act against "an extremely worrying trend of escalating abuse and hostility." This includes physical intimidation outside MPs' offices and at constituency meetings, resulting in "severe distress."
"The culture of hatred and division that is being sown does not benefit anybody, not the party, not the leader and certainly not the British people," the letter says. "We hope that a significant shift takes place within the Labour Party regarding the way we deal with future incidents." It received an anodyne reply evincing, as so often with Corbyn, no sense of urgency or real engagement.
One reaction to bullying is that some women MPs have opted to withdraw as far as possible from the public eye – for example, by turning down media invitations to avoid the inevitable consequence. By contrast, Yvette Cooper has chosen to become more vocal on the issue. Her report on "internet trolling" focuses on its damage to young women in society but has general application. She points out that "persistent, coordinated abuse is effectively a form of stalking or harassment," which would not be tolerated in everyday life yet flourishes on social media. And she greeted Corbyn's second endorsement from Labour members by calling on him personally to "take on the trolls and make it clear that their language is unacceptable… [W]hen you are the leader of a party with a problem, especially when you have just been re-elected, you should use your authority to deliver action, not just words."
Perhaps Corbyn listened, for his speech on 28 September, closing Labour's conference, was more explicit than before, in a way given weight by the occasion. Noting that "robust debate has sometimes spilled over into abuse," he described misogyny and anti-Semitism as "utterly unacceptable." At last, his use of the latter term stood alone, without the modifier "… and other forms of racism": "Our party must be a safe and welcoming place for everybody. Anti-Semitism is an evil. It led to the worst crimes of the twentieth century. Every one of us has a responsibility to ensure that it is never allowed to fester in our society again." Now, what action will follow?
---
If Tony Blair and Gordon Brown forged New Labour, the main trend in today's party is towards Vintage Labour with a distinct retro-communist feel. That very much includes a cult of personality, which Corbyn shows every sign of enjoying. His custom, evident from his first days as leader, of clapping "back" to the audience, Mao- or Brezhnev-style, is but one sign of the vanity that so often lurks within the more ostensibly modest. (In Britain, Tony Benn brought this schtick – "It's not about me, it's about the movement" – to perfection.)
The same quality is evident in the way that groups of around eight young women aides – always young, always women – form a choreography around him as he sweeps across every forecourt to every meeting. It is another revealing practice that goes almost wholly unremarked. What does it say about Corbyn, especially in the context of the experience of other women in his party in the past year to whom, as leader, he has some duty of care? Whatever the answer, Labour's fate is now intertwined, in new and fundamental ways, with the condition of women inside it.
Debates about Labour's direction, its electoral chances, and the anti-Corbynites' options will continue. But in one sense they are secondary. The party has been mugged by fantasy. Its leader is taking it backwards and away from politics, the only direction he knows. Its followers are encased in his narcissism.
Twenty years after Sheila Gunn's epiphany, it is Labour that has the bigger problem with women. The party badly needs an emotional and psychological audit. Whoever provides that may turn the tide and save more than Labour. She may even write a future for women in political life. •