---
Eileen Joyce lived before her time. Had she played the piano in the twenty-first century, her attraction to glamour and fondness for frocks might have worked in her favour. In the middle of the twentieth century, it obscured her talent and derailed her career as a soloist.
If her name is known today, it is most likely because we occasionally see it in the opening credits of old movies. For example, at the start of Brief Encounter (1946), we read: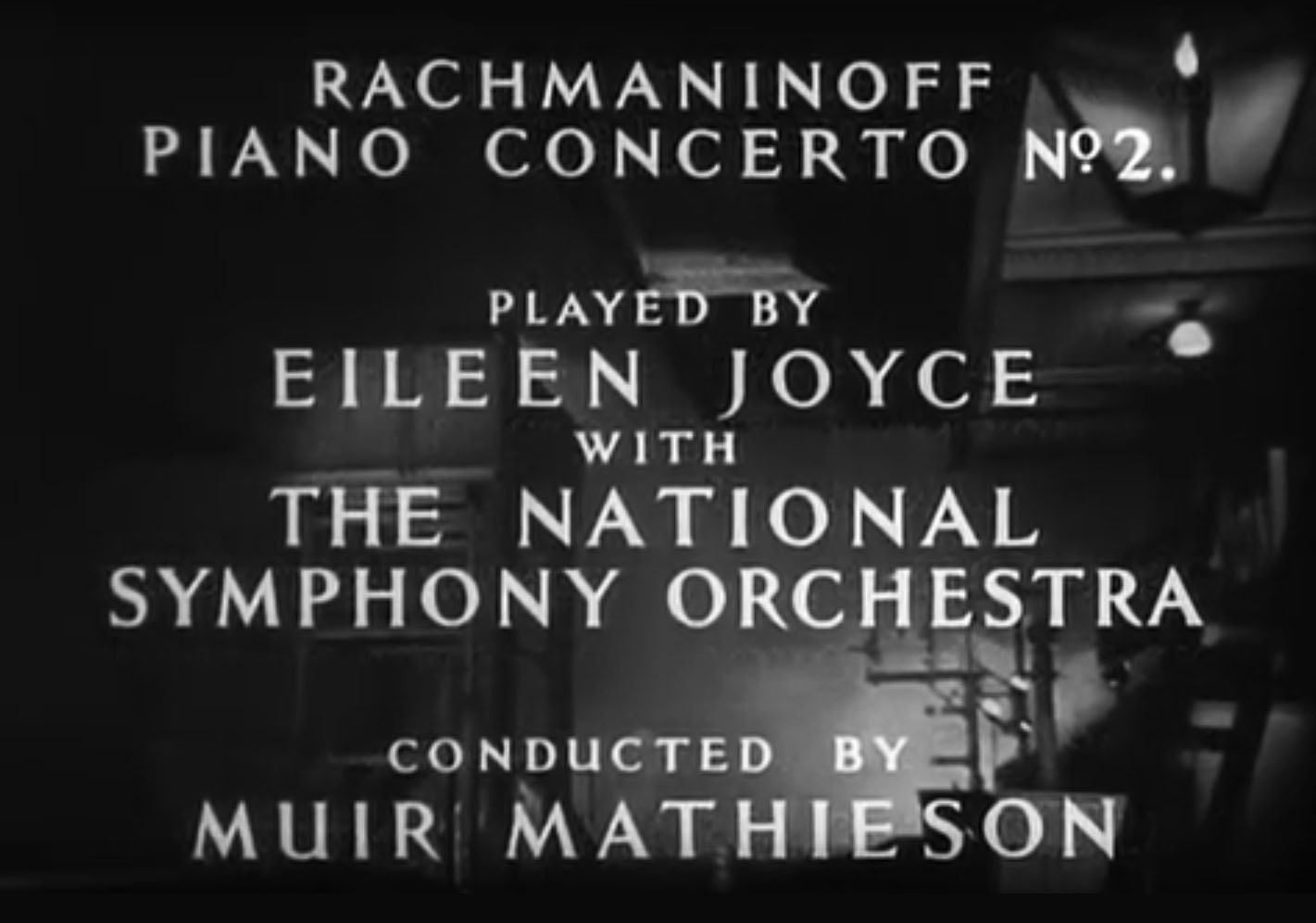 Note that Joyce's name is bigger than the composer's. Such was the scale of her popularity in the 1940s. But while her celluloid fame ensured that her name lived on, at the time it contributed to the dwindling of her concert engagements.
She knew the risk. The year before Brief Encounter she insisted her name be left off the credits of her first feature, The Seventh Veil. But for whatever reason — perhaps she couldn't resist the publicity — she allowed her work to be credited on Brief Encounter. The BBC and other classical promoters took a dim view and her concerto appearances dried up.
Eileen Joyce was born into an Irish-Australian mining family in 1908. Soon after her birth, the family moved from Tasmania to Boulder in the goldfields of Western Australia. Joyce's talent revealed itself early, and she was sent to Loreto Convent in Perth where she was taught piano by Mother John Moore. Mother John's reputation as a teacher was such that Percy Grainger paid a visit to the convent. Having listened to Joyce play, he pronounced her "the most transcendentally gifted young pianist" he had heard in twenty-five years.
The next stop for Joyce was three years of study in Leipzig, followed by an auspicious London debut. It was 1930 and the twenty-two-year-old pianist had arrived in a city where Horowitz, Rubinstein and Schnabel regularly gave concerts. At Joyce's Proms debut that same year, she played Prokofiev's Piano Concerto No. 3, a virtuosic showpiece that was less than a decade old. Her fame increased exponentially. At its zenith, in 1951, she played four concertos in one concert, including the first Tchaikovsky concerto and the Grieg. For each, she appeared in a different dress.
Much of Joyce's early career involved playing new music. Following her success with the Prokofiev, she gave the British premiere of Shostakovich's first concerto, and later his second, and played concertos by English composers Arthur Bliss, Herbert Howells, Alan Rawsthorne and John Ireland.
Western Australian academic Victoria Rogers, co-author with David Tunley and Cyrus Meher-Homji of Destiny: The Extraordinary Career of Pianist Eileen Joyce, wonders whether Joyce played new music because it guaranteed her engagements. She doesn't seem to have been terribly interested in the music and it is striking that, having made such a splash with Prokofiev's third concerto, she never played any of his other four. Her repertoire contained nothing of the second Viennese school and not a note of Bartók. And yet her recordings of contemporary music — contemporary to Joyce, at least — are genuinely impressive, and now we can hear them on a ten-CD set, Eileen Joyce: The Complete Studio Recordings, just out from Decca Eloquence. Joyce's account of the first Shostakovich concerto is bright-toned, stylish and fairly crackling with life.
But it's in more mainstream repertoire that we can hear why she was so celebrated. It is astonishingly assured playing, technically flawless and full of freedom. Listening to her fleet-fingered work in Chopin, Schumann, Brahms and Liszt, we hear her harness the technique to an emotionally spontaneous projection of the composers' ideas. Her recording of Brahms's A major Intermezzo from 1935 is wonderfully impetuous, yet the through-line is never in doubt.
Joyce had most of the great concertos in her repertoire, including both those by Brahms and all five of Beethoven's, but from the 1950s she was seldom asked to play them. It was around this time she became fascinated — "seduced" to use Rogers's word — by the harpsichord, and besides her piano recordings the Decca box set includes examples of what, to modern ears, seem very odd performances of Bach. It's partly the instruments themselves, made by Thomas Goff and sounding like pianos with thumb-tacks in the hammers, and partly the stolid approach to the music, the very opposite of the freedom that characterises her Liszt and Brahms.
Joyce didn't die until 1991, her final studio session nearly thirty years behind her. Even before her death, she was largely forgotten by classical music lovers. Now, with the restoration and release of nearly thirteen hours of historical recordings, we can all hear what the fuss was about. •