---
Bits of England are falling off. A swathe of North Sea coastline from East Anglia to Yorkshire, battered by relentless waves, periodically gives up a clifftop or two to propitiate the sea gods. A newly exposed farmhouse or hotel is abandoned, its owners moving a safe distance inland. But worries about accelerating erosion are balanced by the discovery of undersea remains offshore, part of a village lost to a storm surge in the 1280s. In distant urban centres, alarm mellows: this has been happening for centuries, let's just cope and carry on. It's hard for the locals, but our beautiful seascape will never disappear, at least not on all our devices.
Many English stories have the same mix of elements, with only a quick scene change needed to reveal them. The impending closure of the Independent newspaper is a case in point. Only thirty years old, a stripling by comparison with its quality rivals the Times, Telegraph and Guardian, and yet it's going, tossed into the crashing foam, its brief but distinguished history turned in an instant from living to archival. And the sweep of reaction is identical to how those intermittent landfalls are greeted: intense concern among those immediately affected, widely reported as a dramatic instance of inexorable retreat, though leavened with historical precedent; for most a spectacle rather than a national injury, its virtual consolations approved. Once the farewell obsequies are done, it's back to the screen gods.
Yet in a larger perspective, losing the Independent is a major event: a setback for democracy as well as journalism. Created in 1986 as Thatcherism held sway, it brought to the public arena a distinctive and much-needed liberal internationalism. The paper's limpid design (Neal Ascherson, a prize catch from the Observer, was won by its "beautiful" look) invited expansive, thoughtful, vivid content from a fine journalistic cohort. Above all, the Independent had authority: from the start, it seemed to have existed forever. It felt like the establishment paper of a decent republic.
---
In these last days, behind a hugely impressive business-as-normal facade, the paper has built up to its au revoir fanfare while issuing upbeat invitations to join its digital future. Among former staff of its sister paper, the Independent on Sunday, who said their own goodbyes on 20 March, the dominant tone is professional pride tinged with melancholy. Sue Matthias, now editor of the Financial Times's superb weekend magazine, recalls the Independent on Sunday's launch, four years after the daily paper's, in January 1990: "We knew we were creating something special that was also – genuinely – independent. It felt like a rare thing then. After today, it will be sadly even rarer." And Barbara Gunnell, a brilliant subeditor who also went on to work for the New Statesman, reflects on "a sad moment in newspaper history, but it is a triumph for all who worked there to have maintained such quality for twenty-six years."
Elsewhere in the media, reporting of the closure has been subdued: the decision announced on 12 February by the company of the paper's owners, the father-and-son Russian oligarchs Alexander and Evgeny Lebedev, had long been regarded as inevitable. The paper's pioneering and successful early years saw its circulation peak at 423,000 in March 1990, overtaking Rupert Murdoch's Times, though later it reeled from ill-judged business decisions – including, arguably, the Independent on Sunday ("launched into an overcrowded market at the wrong time," says Ian Jack, its editor from 1991 to 1995) – and aggressive pricing by the Times and Telegraph. Today, it shifts around 55,000 copies, and perhaps many fewer when bulk distribution is excluded, compared to an equally inflated 180,000 when the Lebedevs bought it in March 2010. It operated a routine £5 million (A$9.4 million) loss in the last financial year.
Little noted amid Independent-related coverage is the announcement by Spain's El País that it is considering an end to print publication, after that newspaper's print circulation dropped by 15 per cent in 2015–16. Founded in 1976 after the death of the dictator Francisco Franco, it became a symbol of the country's transition to democracy. Like the Independent, the reputation established by its noble pedigree was never entirely lost in the decades that followed. Their natural affinity even helped to forge a partnership in 1990, when El País, along with Italy's La Repubblica, became shareholders in the British paper, then still in expansionist mode.
The disappearance of any newspaper is sad, not least one whose first editorial in October 1986 declared that "journalism of the highest standard" cannot easily flourish when impeded by "the political prejudices of the typical newspaper proprietor." But the near simultaneous implosion of two esteemed European titles, amid a prolonged European crisis and indeed the possible crack-up of Spain and the United Kingdom alike in coming years, cuts even deeper.
---
At this point there's a hollering of Hold it right there! from the upper deck, as below, lockers are emptied, bags stuffed, and phone numbers exchanged. This is not closure but an opening, not an end but a beginning, is the message. The Independent may "cease its print edition," says editor Amol Rajan, but only to "launch its next, digital chapter." Moreover, "the spirit and quality of [the paper] will endure" after its migration to a "digital only format." The paper claims annual growth by a third in unique users of its website, to nearly seventy million worldwide, and believes this is where its destiny lies.
The front page on 19 March, the last Saturday edition, gives the message a subtle twist by promoting tablet and mobile access with the slogan, "It's changing. Are you?" The echo of the Independent's famous introductory offer in 1986 – "It is. Are you?" – represents a brilliant, if poignant, final throw of the newspaper's cultural capital.
El País's editor-in-chief Antonio Caño, explaining to staff the "imminent transformation of the newspaper into a media outlet that is, above all, digital," makes a similar pledge in a letter to his staff: "We are going to change, but we are not going to reject those values of freedom and independence that have brought us here."
These executives' outward confidence belies sobering long-term scrutiny of brand performance and industry trends. In the case of Independent Publishing, the newspaper's parent company, this has been complicated by the success of the weekday i, a condensed, low-cost version of the main paper with short news items, features and columns. The smart junior, launched in October 2010, proved a hit among commuters, students and the time-poor, soon outpacing its parent with sales of over 200,000, but in turn substantially denting the Independent's own figures. The papers were at once partners and competitors, the i a life-sustaining parasite. This bittersweet conundrum ended with i's sale to the regional publisher Johnston Press for £24 million (A$45 million) as part of the company's digital leap.
That decision taken, making the best of things meant heralding the benefits of what Evgeny Lebedev, in an email to staff, calls "an historic transition" while avoiding any references to the paper closing down. Lebedev is upbeat: "With the spirit of a start-up, and all the authority of our heritage, this transition means the world's most innovative newsbrand can embark on a sustainable future. As we set about that, I would like to thank everyone for the part they have played in the development of this great institution."
Many go along. "[This] is the death of a redundant medium and not of a message" is Brian Cathcart's positive summation of his former paper in the Guardian, a judgement echoed by the Spectator's editor Fraser Nelson: "The Independent hasn't really died. It has just changed its form."
There's a touch of denial here, evocative in a minor key of the Mitscherlichs' influential polemic The Inability to Mourn, published in 1967. It is not, to use their phrase, an "untouchable taboo" to say that this truly is a closure and an ending. To finesse the fact discounts the past, misreads the present, and hands the future an unmerited free pass.
---
The case for change is generic as well as particular, its elements familiar from countless articles and conferences on "the future of the media." Print's declining numbers and revenues, alongside front-loaded costs and cumbersome delivery systems, equate to a struggle for survival. Advertising is increasingly demographic data crunching (even if online lucre is hard to secure in face of Facebook, Google and adblocking). Integration of mobile technology into work and leisure routines is accelerating, mostly among younger people who never acquired the newspaper habit. Customisation of the service economy, and personalisation of social media, is a new normal that renders newspapers' social kaleidoscope ever more passé.
Moreover, digital itself (the argument can run) can be a route to more dynamic and connective journalism: deploying graphs, images and video to build a story, and networking the results. It can also replicate and even improve on the print experience. In a longer-term perspective, the process under way is less the death of newspapers than the diversification of news and, not incidentally, turning clicks into dollars.
No part of this nirvana guarantees the digital Independent a saving grace in the form of substantial growth in readers or revenues. It's more that online is the default wager in the last-chance casino. Jim Rutenberg's observation in the New York Times on the American media's complicity in the "Trumpian churn" is sage: "Things are changing so fast that no news organisation knows whether the assessments it is making to secure its future will prove correct."
The new media ecology is also unforgiving, and questions persist over the online Independent's character. Pre-transition, clickbait rules. Christina Patterson, sacked in 2013 in one of the paper's cost-cutting purges, said then that "the Independent website bears no relation to the paper," and that's still true. The paper's originating ethos was "classic with a twist," a phrase used of the English menswear designer Paul Smith and later associated with Andreas Whittam Smith, the Independent's principal founder and editor for nine years. Perhaps it might yet have something to offer.
---
It is only a slight exaggeration to say that the Independent story starts with Rupert Murdoch, for it was his company's police-assisted defeat of the print unions in 1986 over control of the production cycle that facilitated the entry of new players to the previously forbidding national newspaper market. The brutal atmosphere of that year-long struggle, with journalists on Murdoch's four papers needing to be driven through picket lines at News International's new production plant at Wapping in east London, led a minority of employees to refuse and others, once inside the barbed-wire fence, to long for escape.
Over the same months, three employees on the Daily Telegraph – Andreas Whittam Smith, Stephen Glover and Matthew Symonds – were raising capital for their quixotic venture: a new quality broadsheet, provisionally called the Nation, that could establish a distinct place alongside the Fleet Street behemoths. An unforeseen reward of their bravura efforts was a windfall of Wapping "refuseniks" who, along with other recruits, gave the project editorial liftoff. The alchemy between the risk-taking insiders who conjured what became the Independent, and the spirited professionals who came to fill its pages, was a rare, possibly unique moment in British journalism.
Whittam Smith's "classic" was evident in luring Nicholas Garland, heir of Vicky and David Low as the best political cartoonist of Britain's last half century, from the Telegraph, the "twist" in appointing as obituary editor James Fergusson, whose renovations – signed notices, intriguing subjects, well-chosen illustrations – brought this newspaper morgue to life. (Garland's Not Many Dead: Journal of a Year in Fleet Street, published in 1990, is a vivid, gossipy and honest diary of his protracted move. He returned to the Telegraph in early 2001.)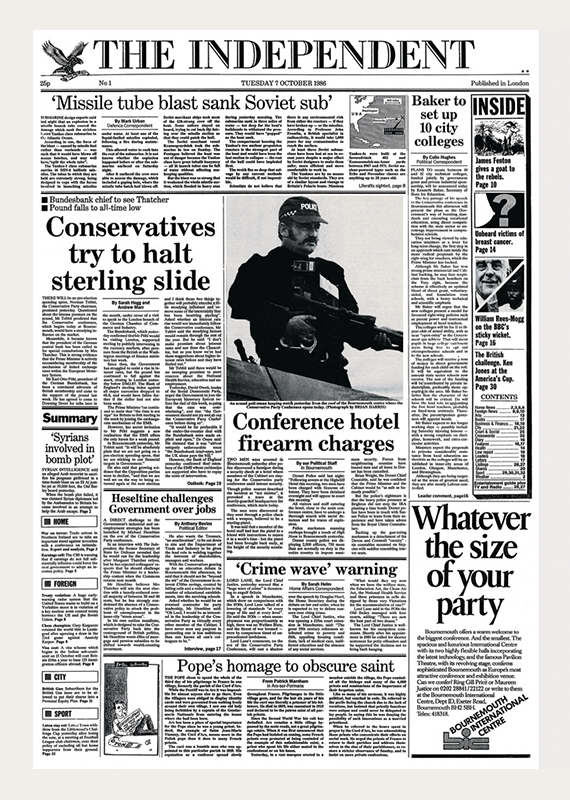 It seemed to have existed forever: the first edition of the Independent, 7 October 1986.
In the early years the paper rose mightily to the world's big stories: Reagan–Gorbachev and the cold war's defrost, Middle East conflict and apartheid's retreat, small wars in central America and the end of Pinochet in Chile, Japan's rise and China's reforms, Margaret Thatcher's zenith and fall. It was the Independent's golden era, though since newspapers are necessarily disputatious, live in an eternal present and are ever judged by tomorrow's copy, that was appreciated even more in retrospect.
Things fell apart, at least among the founders, in the early 1990s. The paper's growing ambitions and Sunday extension precipitated severe internal strain, which led to Stephen Glover's resignation in June 1991. (His Paper Dreams, published in 1993, is an absorbing if naturally partial account of the whole period. Among its morsels are that the celebrated "new tradition" of making royal stories an inside-page news-in-brief started "almost by accident," and the "supreme importance" of carparking spaces at the paper's headquarters: "over the years no single issue caused more trouble.")
The 1991–92 recession hit the company hard, even after substantial cost-cutting. Rupert Murdoch again had an impact: his ambition to see the Times eclipse the Telegraph fuelled a price war of which the Independent became collateral damage. Whittam Smith left the editorship in 1994, and Independent Publishing was restructured by the Irish press tycoon Tony O'Reilly and the owners of the Labour-supporting tabloid, the Mirror, with El País increasing its stake. In 1998, O'Reilly took full ownership. By then, circulation was hovering above 200,000, a nadir, and fewer than a third of the Times it had once surpassed. The 1994–98 years were troubled – four editors, refinancings, makeovers, layoffs, losses – the dreams now more prosaic than before.
---
Some respite came from a new political cycle. The paper had appeared during a long Conservative ascendancy. Its rationalist outlook was spiced with a missionary streak, elements perfectly aligned with those on both left and right who sought reformed, inclusive governance of the kind Thatcherism couldn't deliver. Among the Independent's core readership, a precious bond of loyalty to the paper was sealed.
New Labour's election in 1997 fulfilled long-buried hopes of change but also released high expectations that quotidian politics was bound to disappoint. A darkening post-9/11 world and Tony Blair's alliance with George W. Bush over Iraq changed the public atmosphere, and the Independent – since 1998 under Simon Kelner's editorship – found a role as voice of enraged opposition to the depredations of the "war on terror." Coinciding with the paper's phased shift to tabloid (or "compact") format, the revolt became a style: attacking front pages with glaring headlines and punchy images looking for a daily cause to hurl at the reader.
Circulation improved to 250,000 in 2004–08, and though the hated Blair won a third election victory in 2005, the Independent had succeeded in reinventing itself as a campaigning paper. The move aligned well with emergent social media, securing the brand a distinct cachet among a younger radical generation soon off to create multiple new channels of its own.
The cultural turn was not without problems, most seriously in 2011, when evidence emerged of plagiarism, and covert online harassment of other journalists, by its star columnist Johann Hari. An internal investigation was conducted by Whittam Smith, who in another lifetime – 1986 – told Nicholas Garland "with unexpected intensity" that he was unhappy with an error in the paper: "It is inaccurate and I will not tolerate the Independent being inaccurate."
The financial crisis of 2008–09 was a major blow. An office move and more debt repackaging were followed by the Lebedevs' buy-out. The graphs continued to plunge, but the journalism never faltered. Through difficult years, the paper's coverage of arts and literature, science, environment, technology, business, foreign affairs, fashion, sport, politics and other topics was often outstanding. The Independent, enraging as it could be, was never anything less than a real newspaper.
Decades after Garland's and Glover's books – the paper's co-designer Michael Crozier also published a short, illustrated one in 1988 – a comprehensive, independent history of the newspaper (including the Sunday) would surely be a Fleet Street classic with twists in abundance.
---
The much predicted, long withdrawing whimper of newspapers may turn out to be an unexpectedly defiant roar. But few doubt that print journalism is living through an epochal transition. How might it look in the perspective of two centuries?
"Reading the morning newspaper is the realist's morning prayer. One orients one's attitude toward the world either by God or by what the world is." In miraculously few words, Hegel's aphorism evokes Europe's epic journey from ingrained faith to achieved scepticism. For the German philosopher, whose early life spanned a hope-filled revolutionary era and a new century, literate people would no longer situate themselves by pietistic repetition of religious formulae, but through connection to the civic sphere of event and exchange. The newspaper was the nodal tissue of an emergent social order, capturing its flux, coordinating its energies: a medium of Enlightenment reason.
It's true that, in all Hegel's work, ideal outruns reality. But the gap between them scarcely matters any longer. Two hundred years on, his map of the future is itself out of time. In this revolutionary era, twilight for print is dawn for digital, and an iPad is very heaven. Hegel needs an update: "Surfing the smartphone is the 24/7 habit of wired humanoids."
Newspapers of the classic kind are living off their diminishing capital, and with them is going that Enlightenment promise, the "imagined community" capable of turning strangers into fellow citizens of a vernacular nation. Mediated today means also separated, broken down, reduced to bits. We are all algorithms now: atomised putty for advertisers, corporates, governments, titillators. Democracy, as it has been known with all its faults, is the loser – or at the very least, there is no certain improvement to hand. What is certain is that a future without newspapers would be a future without democracy.
The Independent at launch felt like the establishment paper read by modern, equal, internationally minded citizens of a decent republic. But the country it imagined into being didn't want to exist, not then and not yet. That is more than the Independent's tragedy. •
Enjoyed this article? Why not share it on Facebook or Twitter?