---
In the end, the Voice referendum showed that the old Labor referendum rules still apply.
Early polling indicates overwhelming support. Liberal opposition leaders, regardless of their personal inclinations, lack the authority to support Labor's proposals. If a Labor government is crazy enough to hold the referendum midterm, it suffers a particularly ghastly fate.
The Voice in 2023 was almost a carbon copy of Labor's last referendums, in 1988, with overt racism added.
The table tells the story: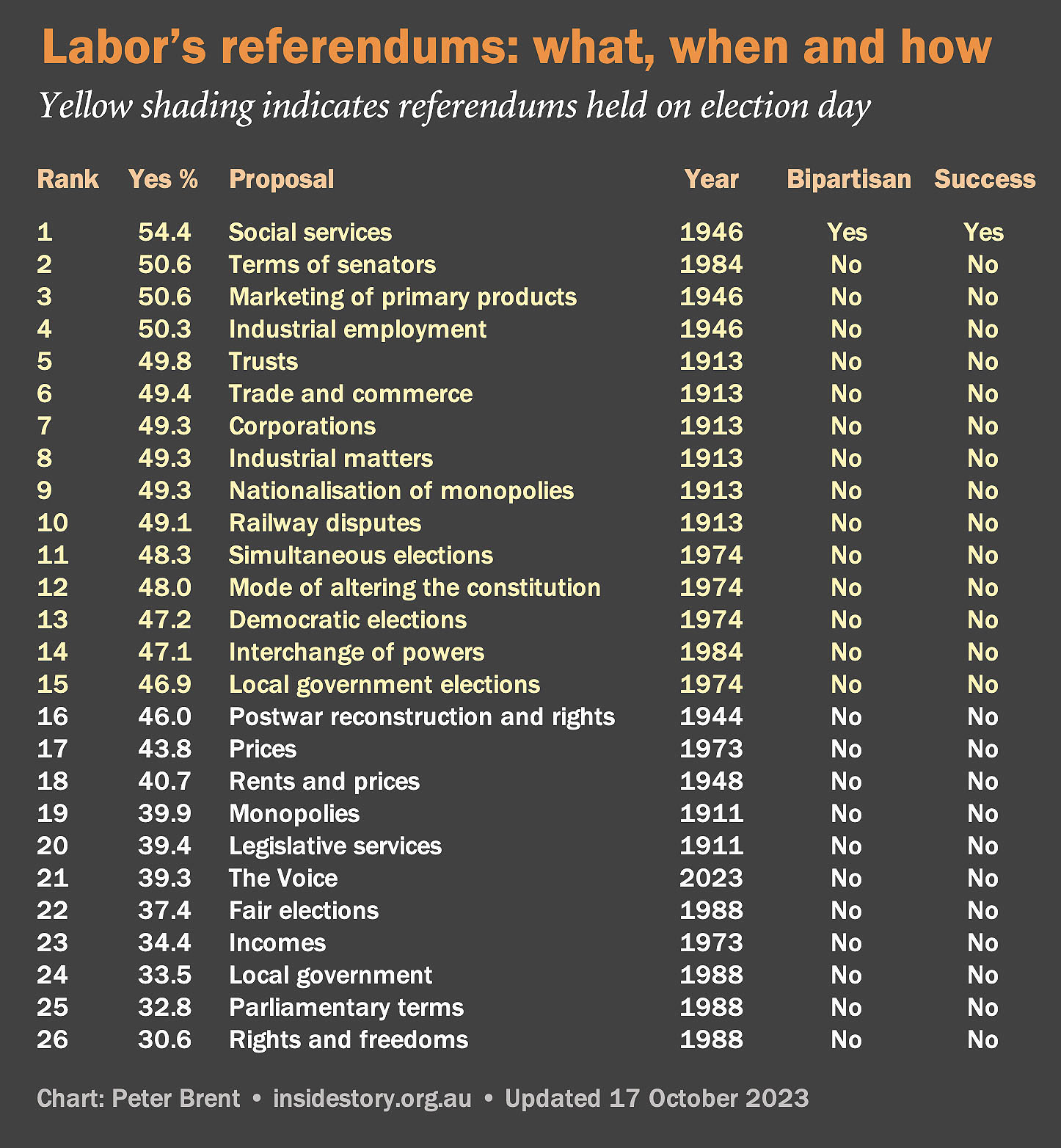 The content of the question matters a little, but only a little. It could've been purely symbolic recognition, or putting local government into the founding document, or taking out "race" or correcting a typo. If it's a Labor proposal, and it isn't held with an election, it gets walloped.
On current counting, the Voice is number 21 on this table, pretty much in the middle of Labor midterm results.
What else can we say?
Tasmania underperformed against general expectations; although, as electoral maestro Kevin Bonham points out, only Newspoll consistently had the smallest state's support at a more modest relative position. On current counting it has slipped above New South Wales (all state numbers are at the AEC here) to reach second place after Victoria (third after the ACT if we're including the two territories), which is itself worthy of a mini-headline. Tasmania hasn't been in third place since, as it happens, that famous 1967 referendum that took out all references to "aboriginals" and "natives." It hasn't been in second place since an unsuccessful 1910 proposal.
South Australia's relative support was always a bit of an unknown, and it came in very low.
In common with the 2017 marriage-equality survey and the 1999 republic referendum, and to varying degrees all referendums back to 1967, Yes was highest around the CBDs of the capital cities, and gradually got lower the further out you went. This routine fact is being turned over and over in the media, but they have to write and talk about something.
(This table on Twitter does show "outer metro" support for marriage equality lowest of all, which can probably be sheeted to its unpopularity in electorates with high numbers of people from non-English-speaking backgrounds. For the Voice, however, there is little evidence of this cohort deviating from the rest one way or the other.)
The figures strongly show big majority support for the Voice among Indigenous communities — if nothing like that 80 per cent January figure that the Yes case cited right up to and including polling day. Several late surveys had Yes support among First Nations people dropping by about the same proportion as the rest of the country, to about 60 per cent, and that looks about right from the polling booth numbers.
(Projecting remote community statistics onto First Nations people who live elsewhere, such as in the cities and towns, is fraught.)
During Saturday night's ABC TV coverage, federal Liberal MP Keith Wolahan (a No supporter) warned against winners' hubris, and so far the gloating anticipated on Friday has been restrained.
Late on Saturday evening Jacinta Nampijinpa Price did get defensive when asked about the strong support among Indigenous communities in her electorate of the Northern Territory. She implied an Australian Electoral Commission–Yes campaign conspiracy, and further questions made Warren Mundine so angry he shouted at journalists before they both walked out.
Another normal day for the No campaign. Despite its repeated disarray it wins bragging rights for an outcome that the proverbial drover's dog could've presided over.
The Yes campaign by contrast has announced a week of silence, and who can blame them? The hot takes alone will be more than anyone can endure. While most of us get on with our lives, those who have been involved in this attempted change for a decade or more will obviously feel devastated, and not for a short time.
Anthony Albanese doesn't seem to be taking it well either, at least twice in the past week describing himself at press conferences as a "conviction politician," as if this will make voters see him as such.
(Note to Anthony: if you insist on these clunky phrases, it's best to get someone else to utter them on your behalf. Also, you only get perceived that way by making unpopular decisions and then getting re-elected.)
The prime minister is getting a media pasting. It will be character-building.
On the other side, Peter Dutton is being feted as a winner. But as opinion polls fail to reveal any sustained improvement in his and his party's standing, the backgrounding will begin in earnest.
How long until we read and hear the inevitable Liberal source's lament that "we can't win with Peter"? By June 2024 Dutton will probably be an ex–opposition leader. •