---
The hotel cleaner was knocking on the door, telling him it was time to check out. But he didn't want to leave. He had hardly slept and hadn't eaten since a meal on the plane from Dubai the day before. The man who had met him at the airport in Jakarta had taken his false passport and, as a final payment, almost all of his money.
"Okay, okay, finish," said the cleaner knocking on the door. "Finish, finish."
He had called his wife, Sultana, to tell her he'd arrived. She sounded groggy on the phone, and when he asked why, she told him it was the middle of the night where she was, in the Yemeni port city of Aden. Only then did he realise he was in a time zone several hours ahead of the Middle East.
He had spent US$50 on the room and had just $20 left in his pocket. His plan was to visit the local office of the UN refugee agency, UNHCR, where he hoped to find support and accommodation. Then, with any luck, he'd be leaving Jakarta to find a new home for him and his family.
---
This is the story of Mohammad Abdul Aziz Osman, a Somali refugee who has lived on his wits on the streets of Jakarta for nearly four years. Like thousands of other refugees in transit countries like Indonesia, he is stuck in limbo and cut off from family and support.
This story could equally have started in a village near Mogadishu, where Aziz was pursued by Al-Shabaab militants, or on an overcrowded boat crossing the Gulf of Aden, or in a refugee camp in Southern Yemen. But let's start about twenty-four hours before his encounter with the Jakarta hotel cleaner, when Aziz left his wife and their three children in Aden.
It was 26 September 2013. Aziz had been driven to the airport by a people smuggler, who dropped him at the terminal, handed him fake documents and pointed him towards the check-in counter. He remembers the man coaching him to be calm. "Just be slowly," the smuggler advised. But Aziz was confused. He had never been on a plane before. Which counter should he go to? Which door should he walk through? He paid an airport cleaner 2000 rials (about A$10) to guide him through customs.
Minutes before his flight, he realised he was waiting for the wrong plane. As he recalls it, he slapped his forehead. "Better I wash cars," he thought, thinking of the job that had sustained him during the years he and his family had lived in Yemen. But he ran through the airport terminal until he found his plane. He remembers the feeling of relief.
After he left the hotel on his first morning in Jakarta and set out for the UNHCR office, Aziz heard the call to prayer. It was Friday, the day when all Muslims are called to worship, so he crossed the road and joined the men praying on the street outside the mosque.
As the prayers ended and he was about to go in search of UNHCR, he noticed a motorbike key on the ground. He picked it up, looked at it for a moment, and then started walking through the crowd leaving the mosque. He stopped people to ask in Arabic or broken English whether the key belonged to them. As the numbers were starting to thin, a man glanced at it, and then looked again. Aziz saw his growing realisation that his key, which he thought he'd left safely at home, was in the hand of this foreigner.
This was Rojak Gunnaldi, a small, thin man with a gentle manner whom Aziz now describes as "better than a brother" and "a man I would die for." Although he speaks neither English nor Arabic, Rojak soon understood that Aziz was desperate. He took him to a cafe where a colleague spoke enough English for Aziz to explain that he needed to register as an asylum seeker.
Rojak took him on his motorbike across the city to UNHCR, where they were told the office had closed for the day and he needed to return on Monday. So Rojak offered to put him up for the weekend. In his small room, he fed Aziz and looked after him, even as the Somali fell ill from heat exhaustion.
It wasn't until Tuesday that Aziz was well enough to go back to UNHCR. As they soon discovered, though, the agency was barely coping with the number of people seeking help. The two men waited in a long queue to see an official, who noted Aziz's details and registered him on a long list of people seeking asylum. Afterwards, Aziz remembers Rojak saying, "Okay, now you can go." But Aziz replied that he had nowhere to go and no way to support himself.
"Okay," Rojak said. "You can stay with me." For the next seven months they slept on the same mattress on the floor of Rojak's one-room house.
"That man," says Aziz, "he very good. He say you stay with me, no problem. I say, Rojak, God bring me."
To repay him, Aziz fetched water each day and cleaned the room. He also carried water for the neighbours, and cleaned the corridors and picked up rubbish. He never asked for payment. The community warmed to him. People smiled as he passed and took the time to talk to him. They offered him food and sometimes small amounts of money.
But one day Rojak told him he had to leave. He was getting married, he told Aziz in tears, and there was no room for him in the tiny house. Rojak apologised and they wept together.
---
This was when I first met Aziz. It was June 2014 and he was sitting on a mat outside the UNHCR building in the Menteng area of downtown Jakarta. Behind him, a cardboard sign read, "UNHCR Kita perlu bantu dan fasilitas" (We need help and facilities). There was something about the way he sat there with his legs folded, motionless, staring into the street. I stopped and said hello.
I was making a program for Radio National about the treatment of asylum seekers and focusing on Afghan and Pakistani Hazaras, who were arriving in large numbers, lured by smugglers offering trips on boats from southern Java to Christmas Island. Tony Abbott was in power and the boats had stopped, but young men were still pouring into Indonesia. I had met and interviewed a group of eight people — the youngest aged sixteen — who explained that they had paid smugglers US$64,500 between them to get to Jakarta, with no prospect of onward travel and no way of returning to their own countries.
He asked me to sit down on the mat. He wore a neat blue shirt over his thin frame, and his refugee papers were folded in his pocket. He told me he had been sleeping on the verandah of a nearby hotel and used the showers at a mosque not far away.
"I have problem in my country," he said. "Me, no mother. Me come here. UN no give eat, drink. Al-Shabaab — but me I no like."
He had picked up bits of English and Indonesian and his story came out in bursts. He was angry that UNHCR could give him nothing. He was fearful for his wife and children in Yemen. He was defiant about the religious zealots and militants who had harassed and tried to recruit him in his village near Mogadishu. He was frightened by a future in which he saw no resettlement and no security, at least not any time soon.
Within minutes he was stammering in a high pitch in both languages, punctuated by sobs. "Anak anak [children]," he said. "Me I have wife. Me I want future, good. Me I like work. Me I like future… nothing mother, father. Me I want future, me."
When I asked him what UNHCR was doing to help, he showed me a letter he'd been given inviting him back for an interview the following April, more than ten months away.
I heard his words over and over when I was editing the program back in Melbourne, but they didn't lose their power. In the months afterwards, I wondered how he was getting along on the streets of Jakarta.
So, in April 2015, I went back to the same spot and asked around. I showed a few people his picture. They all knew him and the word quickly filtered out. Soon he appeared, smiling and dressed in a t-shirt, old jeans and a pair of thongs. Yes, he was okay, he said. His English had improved, and so had his Indonesian.
UNHCR had eventually brought his interview forward by a month. Rojak had kept in touch and dropped by from time to time with small amounts of money. He had escorted Aziz to the interview because he wanted to tell UNHCR what life was like for his friend on the street. Now Aziz was waiting for the agency to grant him refugee status, a vital step on the way to resettlement in another country.
He showed me the little alleyways where he swept and picked up rubbish. A woman who owns a cafe near UNHCR and is known to everyone as Ibu Deni saw us talking and vouched for him. She told me he works hard and asks for nothing. She also said that I should tell the Australian government to look after him. On a wall just thirty metres away, an Australian poster declared, "NO WAY: You Will Not Make Australia Home." Anyone who had registered with UNHCR after 1 July 2014, it warned, would be denied entry to Australia.
---
Aziz's quest for safety really began in 2009 when he paid smugglers US$100 for a boat trip from Bosaso in northern Somalia across the Gulf of Aden. He remembers there were forty-three people on board, among them twenty women, some with children. He and the single men sat at the bow.
"I had no luggage. No bags. No anything. Just t-shirt," he told me. The waves washed over the gunwales. Many people were sick. He was burnt by the sun and seared by the salt. By the third day they had run out of water and people were finding it hard to swallow.
"Never go by boat again. Very dangerous," he said. "First thing I do [in Yemen] was cancel this. I said to them [his wife and children], 'Don't come.'"
On the night of the third day, the boat landed on a beach on the southwest coast of Yemen, near where the Gulf of Aden narrows before becoming the Red Sea. The police bussed them to Ma'afa, where they were given food. The next morning, they were taken to Al Kharaz refugee camp in the desert.
A few days later, Aziz decided to make his way to Aden. Work was available at a market near the entrance to the city, he'd heard, where many Somalis and Ethiopians wash cars to survive. Despite his fears, he cleaned cars all day so that his wife Sultana and their three children could make the same boat journey. When they finally embarked, he waited anxiously for five days before the family was reunited.
Yemen hasn't exactly been a safe haven for his wife and children. When we talked, the Saudi air force had been bombing Houthi rebels in Sana'a for a week and Aziz hadn't heard from his family for twenty-five days. "Sometimes I have signal, sometimes I do not," he told me. "It's very difficult." He said his wife can't go out. "People are not working. She can't do cleaning, she doesn't feel safe." As he spoke, he began to cry.
Normally, Sultana would leave their three children, then aged between two and five, in her one-room apartment between 7am and 4pm while she cleaned houses.
"One time my child spilled hot water," said Aziz. He was using his t-shirt to wipe away his tears. He raised his arm to show how Soada had scalded herself on her forearm and ankle. After five months, he said, the burns peeled away. He pinched his skin to show the effect.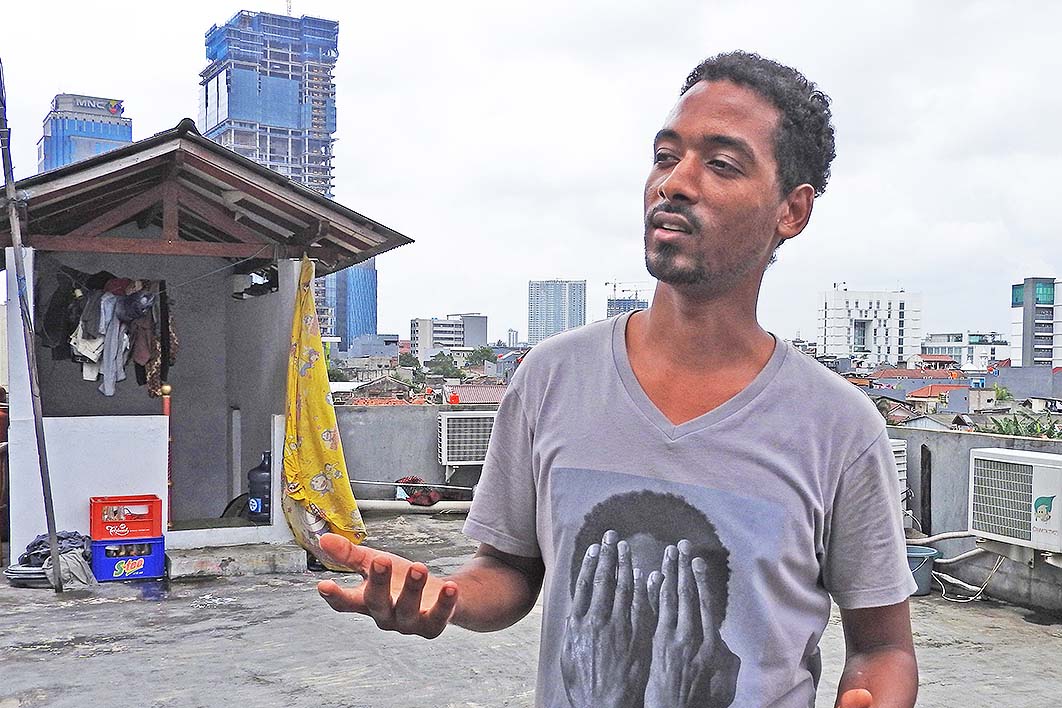 Aziz on the hotel rooftop where he sleeps in exchange for doing odd jobs. Andrew Dodd
"Many times Soada asks me, 'Papa, when you come?'" said Aziz. "My wife, too, asks, 'What are you doing? You are there. I am here.' I say, 'Wait, wait.'"
"Maybe next time I meeting you, I have two babies, maybe one," his wife has said, warning him of the risks their children are exposed to.
"Wait, wait," replied Aziz. "Maybe next time life is good."
He can't admit to her that he has no idea when, or if, life will get better, but he has invested too much to consider returning to the Middle East.
For now, as Aziz told me, "I sleep on the roof."
I asked him to show me where, so he led me up the hotel's narrow stairs onto the roof, where his bedding was rolled up neatly in the corner. The hotel owner let him sleep there if Aziz tidied the corridors and swept the stairs. He explained with pride how he had removed several loads of rubbish. He lay down to show where he slept. The UNHCR building was framed in perfect silhouette behind him.
---
By the time of my next visit, in February this year, Aziz's options had narrowed. Donald Trump had stopped immigration from seven Muslim countries; as a Somali who had lived in Yemen, Aziz was banned twice over. He told me he was getting at least one meal a day by helping a man called Doli pack up his warung each night at 1.30am. He had briefly found a room to sleep in, but it hadn't worked out and now he was back on the roof of the hotel.
It had been raining the night before, so we stepped around his pile of damp bedding and clothes in the stairwell, where he had sat for a couple of hours to wait out the storm. By mid-morning the roof was hot again and he collected his washing, which had been hanging on a string near the air-conditioning units.
Later he told me he was thinking of going to one of the country's immigration camps, where refugees can get a bed and regular meals. But it would mean being locked up twenty-four hours a day in awful conditions. "I'm not ready yet," he said. "But life difficult here, brother."
Aziz wanted me to meet Rojak. He wanted me to talk to the person who had saved him. So that afternoon we went to the upmarket restaurant where Rojak works. It was a Sunday afternoon and well-dressed families were sitting at rows of tables on a pier, facing the water. Jetskis raced around circuits a hundred metres offshore. Across the water was a building shaped like a cruise ship, with four residential towers, each forty storeys high, designed to look like the ship's funnels.
Rojak and Aziz were delighted to see each other. In proficient Indonesian, Aziz complimented Rojak on his red bandana, which signified he had reached the most senior waiter's rank. Between serving customers, Rojak came back and the two of them continued talking about their wives and families and Aziz's hopes for resettlement. Aziz had decided not to tell Rojak that he had moved back onto the roof. "I not want him to feel heavy," he told me. He hadn't mentioned it to his wife either.
Rojak ordered plates of food for us and insisted on paying. He told me that he helped Aziz "as anyone would, because he is a fellow Muslim, a brother and a friend." He's an engaging figure, cccasionally pausing to stare at me with a look that's stern and comic at the same time.
The next day, Aziz and I were standing on a bus heading across town when the doors opened at one of the transit stops. People scrambled on as others tried to get off. Aziz noticed that a blind man was still on the platform. He jumped off the bus, took the man's arm and gently steered him back on board to a safe place to sit. As the bus took off, he stood by the man, watching over him, steadying him with his arm as the bus jolted and braked. Three stops later, he escorted him off again.
Later, I said goodbye and got off too. I used the footbridge to cross the four busy lanes of traffic and started walking along the footpath. It soon started spitting rain and just as I was thinking I might need to find cover, I felt a tap on my shoulder. I turned to see Aziz standing behind me. He was holding an umbrella, the one he'd been carrying all morning. He pushed it into my hand and said something I couldn't hear above the cars.
He turned quickly and walked back across the road, threading his way through the same traffic I'd avoided by taking the bridge. I stood watching as he disappeared behind a bus and climbed to the transit platform. •