---
Victoria these days is Labor's heartland. There have been twenty-four federal and state elections since 1980, and in Victoria, Labor has come out ahead in eighteen of them. At federal level, it is still a heartland, preferring Labor by 55–45 in Newspolls over February and March. But at state level, premier Daniel Andrews has put that loyalty to the test.
A high-profile dispute last year saw Andrews intervene to hand a firebrand union leader unprecedented authority in the management of the state's Country Fire Authority. That led to the resignation not only of the CFA's leadership but also of highly regarded minister Jane Garrett. A Galaxy poll in February found the government's honeymoon with voters well and truly over: Labor led just 51–49 in two-party terms, and Andrews had become Australia's most unpopular premier, with a satisfaction rating of just 35 per cent, with 52 per cent dissatisfied. Even Colin Barnett was polling better than that before he was swept from office.
But the Andrews government is lucky that, unlike Western Australia, Victoria is booming. This is not really its own doing, but it can and does claim the credit. Melbourne has become a magnet for foreign students, Asian (especially Indian) migrants, and the young and cool from all over Australia. In the year to June, that city alone absorbed almost a third of Australia's population growth. Housing prices and construction have boomed. The state's payroll tax data confirms that Victoria is generating new jobs at an astonishing pace.
That should mean that the state budget unveiled yesterday by treasurer Tim Pallas is rolling with loot, and in some ways it is. Revenues for 2017–18 are now forecast to be $2.4 billion higher than Pallas projected a year ago, and $4 billion higher in 2018–19. This has allowed Pallas to deliver a budget that splashes money around Labor causes (especially for victims of domestic violence) while investing a record amount in transport infrastructure, schools, hospitals and so on, hiring thousands more police, handing out tax breaks big and small – and yet still end up with billion-dollar surpluses stretching out into the blue yonder.
Yet, for all the apparent prosperity, Victoria's budget looks far more vulnerable than it did a year ago. The surplus for this year was then projected to be $2.9 billion; now it is expected to come in at just over $1 billion.
To balance the books, Pallas has had to lift the so-called "efficiency dividend" from 2.5 to 3 per cent into the future, saving $1.2 billion. Given the extraordinary growth in the Victorian public sector since Labor took office – the wages bill has swollen 17 per cent in just two years ­– that is certainly doable, but it is notable that Pallas did not even mention this large cost saving in his budget speech, and the one reference to it in the five-volume budget papers did not explain how it was to be achieved. It does not inspire confidence.
The key to Victoria's budget boom is one figure. For the first time, stamp duty on property transfers has overtaken payroll tax as the state's biggest revenue source. In just four years it has almost doubled, from $3.2 billion to $6 billion, as soaring population, soaring new construction and soaring house prices made it a treasurer's dream tax. Even after removing the tax from most first home buyers, Pallas now projects its proceeds to shoot up another 25 per cent in the next four years, accounting for almost half the growth in future tax revenue.
Well, he might be so lucky. Or he might not. And that's the risk. A property downturn, which is more likely than not in the next four years, would put the state's budget surplus at risk. The future surpluses predicted now are skinnier than they were a year ago.
How can the surplus be shrinking when revenue is soaring? Because the Andrews government is spending the money faster than it's coming in.
This year, revenues rose 8 per cent, but spending rose 10 per cent. Next year's revenues are forecast to rise 4.4 per cent, despite several tax cuts, but recurrent spending is forecast to grow 4.9 per cent – and that leaves out a big, long-overdue surge in investment in new roads and rail.
Despite wage growth being at the lowest levels on record, Victoria's public sector wage bill has shot up 10 per cent this year, and 17 per cent in Labor's first two years. The forward estimates showing that growth shrinking to 2.5 per cent in the out-years have to be taken with more than a grain of salt. Or, to be less tactful, they cannot be believed.
That's not the way Pallas presented his work, nor is it what Andrews wants us to focus on. Among the dozens of press releases, the ones the premier put his name on highlighted these elements:
• The "unprecedented investment to end family violence," implementing every one of the 227 recommendations of the state's royal commission on the topic, in a package that adds $400 million a year in new spending – overwhelmingly focused on caring for victims, rather than on prevention.
• $4 billion of spending directed at the regions, especially the regional cities where Labor has a swag of marginal seats, including new programs for public transport, roads and bridges, schools and housing, and, in a throwback to the Hamer government's decentralisation push, an unexpected 25 per cent payroll tax cut for firms based outside Melbourne.
• Putting an extra 3135 police on the streets over the next five years, on top of the 13,525 already there. This initiative is aimed at countering the campaign of the Murdoch flagship, the Herald Sun, to convince Victorians that they are at daily risk from a new crime wave, despite the statistics showing that Victoria has the lowest crime rates in Australia. By the time it ends, almost one in 400 Victorians will be a police officer.
• The usual mix of new investment to build and upgrade schools, to upgrade hospitals, with almost $3 billion of new health spending – and invest in new transport infrastructure.
Andrews made his priority clear. "At the heart of this year's this year's budget is a historic and life-changing investment to end family violence," he declared. Andrews is a political animal, but no one would doubt that he is genuinely passionate about the issue, and good on him; it is something society has tolerated for far too long.
But most of his new spending is not going to end family violence, but to treat its victims. It includes $95 million over the next four years for "family violence industry planning." Maybe his government should have set aside some of those 227 recommendations – they include the right to "family violence leave," at employers' cost, which is sure to become a rort – and instead given more priority to prevention and tackling the causes. Why do so many relationships that begin in love end up in such extreme, obsessive hatred? What can we as a society do to prevent this, and help relationships work rather than fail?
---
Victoria's low level of infrastructure spending has been a recurring theme in this column, and with good reason. As the accompanying table shows, even last year, when three out of eight Australians were settling in the state, the share of its economic activity going into public infrastructure spending was way lower than even in Tasmania, and barely half that of New South Wales – and that was after the Andrews government had lifted spending quite a bit.
Chronic under-investor: Victorian infrastructure investment as a percentage of total state spending, compared to other states, in 2016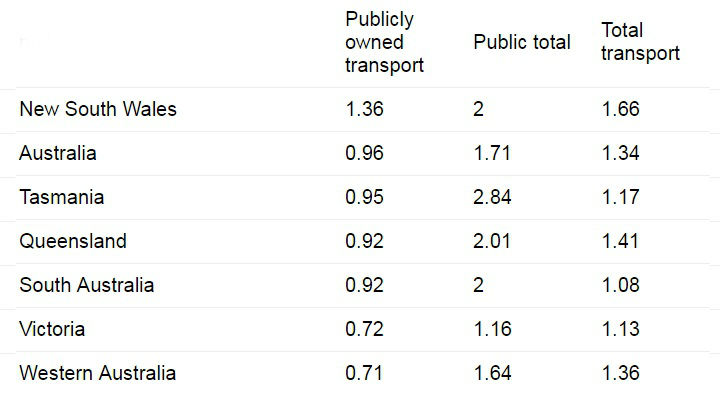 Source: Australian Bureau of Statistics. Total spending (or state final demand) is the sum of all spending by households, governments and businesses.
The Turnbull government is largely to blame for this. Over the five years to 2020, the Coalition has allocated Victoria only $3 billion of the $31 billion it plans to invest in transport infrastructure across the nation: roughly 10 per cent, for a state with 25 per cent of Australia's population and 37 per cent of its population growth. The Andrews government has also helped prolong this schoolyard stoush, but Turnbull controls the money; his and Abbott's government created the problem, and it's his responsibility to fix it.
Pallas, a genial, good-natured guy, told journalists yesterday, "The Commonwealth has made a very clear decision not to invest in anything that the state government believes is a priority for the people of Victoria. If Labor says it's a good thing to do, then they will not do anything about it… There is a deliberate effort by the Commonwealth to frustrate and impede the economic potential of the state." It is hard to disagree with him.
The good news is that the 2017 Victorian budget marks another big step forward, and for the first time in forty years, the state – and others investing on its behalf – are giving Melbourne's transport needs the priority they deserve. Even if its transport investment is not quite what it seems, and still falls short of what Melbourne needs, it's an impressive step.
The budget papers claim that the government will invest more than $10 billion in 2017–18 on infrastructure in all areas – schools, hospitals and police stations, as well as roads and rail – although this includes investments by Transurban and other private firms in private–public partnerships. The government's own plans for transport investment for the year ahead amount to $5.77 billion – a 30 per cent jump from the $4.4 billion planned a year ago, and more than double the $2.8 billion year-ahead spending proposed in the last Coalition budget in 2014.
The 2017–18 activity will be dominated by Labor's program to remove level crossings ($1.2 billion) and to build the Melbourne Metro ($855 million). But there will also be $80 million to plan the North East link between the Ring Road and the Eastern Freeway, and $100 million-plus budgets for road projects such as widening the Ring Road and the Tullamarine and Monash freeways, and rail works ranging from the Murray Basin project to serious upgrades of the lines to Ballarat, Hurstbridge and Dandenong and the extension of the suburban system to Mernda.
The government has also flagged that it will build the long-delayed north end of the Mornington Peninsula Freeway, now renamed the Mordialloc bypass, and, with the Commonwealth, investigate options for a rail link to Melbourne Airport, apparently to be privately owned. Why?
It's still far less than Sydney is building, but that is partly because the Abbott–Turnbull government has been an ATM for projects in Sydney, while starving Melbourne. Most of the little it spends in Victoria goes to country roads. Perhaps next week's federal budget will see a change that will astound us all.
The state budget also coughs up some money for a one-off maintenance catch-up, in both rail and road. That's welcome, because politicians typically prefer to fund gleaming new projects than patch up the fraying edges of existing lines, or replace equipment that is long past its use-by date. Public transport advocates often argue that governments should fix up the lines we've already got, give them dedicated tracks and install modern signalling and control systems, before they start building anything new. Reports leaked to the Age on the state of the Melbourne and regional train networks, and the tram network, all suggest that far more than this one-off hit will be needed to tackle the decades-long backlog of essential maintenance and replacement of outdated equipment.
---
The budget has been well-received. Business likes it, the welfare groups like it, even commentators normally hostile to Labor couldn't find much to criticise, while opposition leader Matthew Guy seemed to be saying the government should have spent more, taxed less, and run a bigger surplus. Thanks, mate.
I can't join the party. To me, this budget reinforces the impression that this is a government that shies away from making hard fiscal decisions. Unlike the Victorian Labor governments of the previous decade, which leaned to the centre, this one leans to the left. Its priorities seem to be those of the activist fringe, and not the mainstream of Victorians. That is why the government, like its budget, is now vulnerable.
Steve Bracks and John Brumby were both economics graduates who spent years out in the real world – as teachers, youth employment workers and so on – before entering politics full-time. Daniel Andrews is just as bright as them, but he did an arts degree, and then went straight from university to politics, as a staffer. He has never worked in anything else, and it shows.
A surplus of $1 billion in Victoria's current economic position is far too small. In state government accounting, an operating surplus is essentially the current taxpayers' contribution to infrastructure spending. It is unambiguously a good thing. This year's budget should have aimed at a surplus more like $3 billion, and got there by taking a much tougher line on spending.
There are many glaring examples. The state's Night Rider experiment with all-night public transport has been an expensive failure, costing almost twice the original estimate, with each passenger journey costing almost as much as a taxi ride. Yet the budget pledges to continue it for another four years, booking it in at implausibly low costs.
Victoria does not need 3000 more police, and if it did, the obvious source of them should be to retrain the underutilised protective security officers, or PSOs, as police. The PSOs are another failed experiment, this time by the previous Coalition government, in which people in uniforms are paid by taxpayers to walk up and down every Melbourne railway station at night, supposedly to make passengers feel more secure. It is a breathtaking waste of money, and everyone knows it, yet no one apart from Age columnist John Silvester has had the courage to say so.
I love the Australian Open, but why do Victorian taxpayers have to be an ATM for whatever Tennis Australia wants to build next at Melbourne Park? It has five show courts already. There are far greater priorities than spending $277 million to build it a sixth one.
One could go on. The government needs to spend a bit less on current services, and invest a bit more on the needs of the future. That's why its budget is now vulnerable, and it sums up the problem of a government that appears to be out of touch with its electorate.
It is a government that puts a low priority on sustaining the health of Victoria's private-sector economy, and a high priority on being state of the art on social policy. One might say the latter appears to be Andrews' obsession, when most Victorians expect their leader to have a broader focus.
The polls suggest he has lost them; the Labor Party is far more popular than its leader. He is a bright guy, and could still grow into the job, but two and a half years in, an economic downturn could see this end up as a one-term government.