---
I thought I was used to change in Shanghai, a metropolis that's been in a constant state of flux since I moved here in 2000. But I was still taken aback last autumn when I returned from a couple of months away and went for a stroll in my local neighbourhood. At one corner of the street a little row of shops and offices, including the stall where we'd bought cooling snacks in the hot summer a few months before, had completely disappeared — bulldozed and in the process of being replaced with a flower bed. At the other end, in a residential lane, another row of small shops had also gone, along with the fruit store at the entrance, whose owners had greeted me every morning for five years. What had happened to the young couple who ran it, I asked the key-cutter opposite? "They've gone," he said. "They've left Shanghai, gone back home."
It seemed hard to imagine — this couple who had worked so hard to build up their fruit stall, which they took turns on, keeping it open from 8am until 10 or 11pm every day. Unlike many rural migrant workers in China's big cities, they had brought their children with them, pursuing their dream of an urban life for their family. Had they really gone back to a province where they hadn't lived for years?
It was a reminder of the precariousness of urban life for many of China's rural migrants — an estimated 200 million people, or some 15 per cent of the population. They have played a major part in China's economic boom, particularly in the manufacturing and construction sectors, and now hold most low-paid urban service jobs too. But China's antiquated household registration (or hukou) system still classifies the majority of them as rural citizens, meaning they are not entitled to the same welfare — or, often, the same education for their children — as those born in the cities.
It's more than three years since the Chinese authorities pledged to gradually abolish this divisive system and allow one hundred million rural people to become urban citizens by 2020 — a move officials said would boost real estate sales and consumption. But a series of recent incidents have shown just how difficult this process could be.
Highest profile were the events in Beijing in November and December, when tens of thousands of mainly migrant workers were forced out of their homes in the suburbs, which were then demolished. According to the government, it was part of a crackdown on illegal and unsafe structures following a fire that killed nineteen people in a workers' dormitory. But the sight of people being evicted from their homes, and often having their possessions forcibly removed, caused widespread anger. For many, it came as a shock in the era of president Xi Jinping, who has sought to convince people that he is offering a more equal society in exchange for a reduction in civil liberties.
The crackdown prompted public protests, outspoken online criticism and a letter signed by more than one hundred intellectuals, the type of collective action that has become increasingly rare under Xi. Even state media offered some support to the evictees. The action may also have damaged the career of Xi's protégé, Beijing mayor Cai Qi, after a leaked video showed him calling for "rough confrontation" to remove recalcitrant residents and city authorities were accused of targeting what official documents had previously called China's "low-end population."
The authorities suppressed much of the online response and the outpourings of sympathy, which included irreverent t-shirts proclaiming the wearer to be part of the "low-end population." But the incident was a reminder that the national government's efforts to clean up cities and create a more orderly society can bring it into conflict with the aspirations of many citizens.
Beijing's emphasis on fire safety as a justification for the evictions was seen by many as a cover for implementing its plan to cap the city's long-term population at twenty-three million people in 2020 (up from 21.7 million in 2016), which officials say will improve the quality of life for those who remain. This target will be partly met by transferring some of Beijing's government functions to a new city in neighbouring Hebei province. But it will also entail a reduction in the capital's downtown population, with several Beijing districts each planning to cut their population by an average of at least a million people. Many traditional local markets have been closed, leaving traders little choice but to leave the city.
---
In Shanghai, the sudden closures and demolitions have been less geographically concentrated, and the targets have been shops and businesses more than homes. The authorities have emphasised the need to crack down on illegal structures and businesses without licences, partly under the umbrella of Xi's ongoing anti-corruption campaign. But the policy has certainly begun to bite increasingly hard over the past two years, and it's not been uncommon to see — as I did by chance last summer — a line of law enforcement officials in hard hats cordoning off part of a street while a row of small shops is swiftly demolished.
Other businesses have simply had their shopfronts bricked up. One entire block of bars, shops and restaurants opposite the city's modern, prestigious Culture Square concert venue has remained crudely bricked up for more than a year. Buildings owned by government departments are among the targets: as part of Xi's crackdown on graft, they have been ordered to stop making money from commercial leases. As a consequence, a number of popular galleries, restaurants, spas and other businesses have vanished almost overnight. The crackdown has also caught out businesses that have been operating in a legal grey area since they opened fifteen or twenty years ago, when private enterprise was relatively new in China and rules were not as clear or strictly enforced.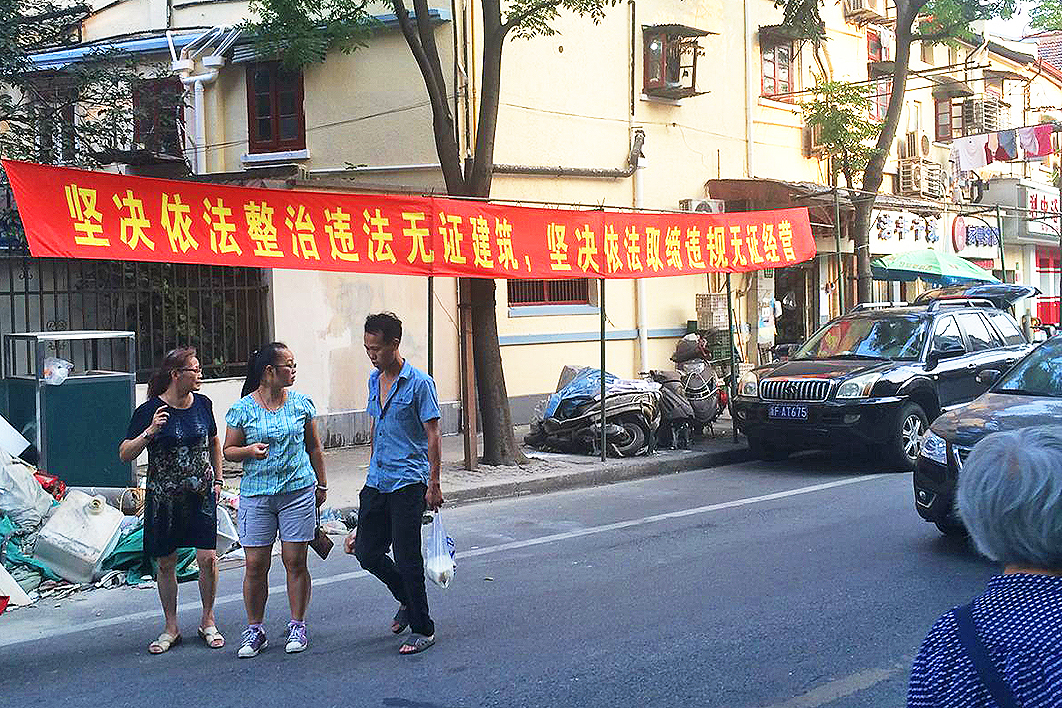 A banner in Shanghai reads, "In accordance with the law, resolutely rectify illegal and unlicensed buildings; resolutely ban irregular and unlicensed businesses." Duncan Hewitt
Not all the loss of this type of informal economy will be lamented by local residents. Few will regret the departure, for example, of a store that used electric saws to cut metal window frames on an otherwise quiet residential side street in the former French concession. And some older buildings in the district now undoubtedly look cleaner and more elegant, something the government says is part of a project to "restore [the area's] historic appearance."
Yet some residents bemoan the disappearance of many neighbourhood noodle shops, snack stalls and small hardware stores, for example, which less wealthy local people have grown used to over the years. "The street is so quiet," said one old woman in the former French concession. "There's almost nowhere nearby to go to buy things now."
And the process can seem quite random. In some old neighbourhoods, officially decreed top-down gentrification has led some local favourites to be closed down, while other new restaurants or shops are opened. And near my home, one small but busy noodle restaurant, whose owners had invested a lot of money on a shiny makeover not long before, was suddenly bricked up one morning — only to be unbricked and reopened a few months later. On another occasion, I was sitting upstairs at a cafe when a uniformed official appeared and pasted a notice on the balcony outside, ordering the removal of both the balcony and the external staircase that was the only access to the upper floor. After a few months of closure, the staircase, though not the balcony, reappeared — and the upper floor reopened.
For many businesses, there is no way back — and some are questioning how this will affect the functioning of the city. Shanghai's wave of new construction is far from over, but one company I know that had built up a booming business in interior decoration was recently evicted without warning from its suburban studio. The nearest place it could find similar premises was a couple of hours' drive out of the city, across the Yangtze river in Jiangsu province. A carpenter producing design works for local stores also saw his studio demolished as part of suburban rezoning and ended up moving a couple of hundred miles out of Shanghai.
---
Along with the longer-term and continuing destruction of some of Shanghai's historic inner-city neighbourhoods, the crackdown on illegal structures has made it harder for many migrants to find affordable places to live or work in a city where rents have spiralled in recent years. Some have lived on the fringes of the city, in urban villages an hour away by electric bike, but even those homes are harder to find now. Many people, like the fruit-sellers in my neighbourhood, have little choice but to return to the countryside, or to smaller towns in their home areas.
Of course, huge numbers of migrants are still living in Shanghai — more than nine million in 2015 — but the numbers have recently fallen slightly for the first time in years. And the treatment they've received only adds to their sense of insecurity and of being unwanted. As the local key-cutter put it, "It seems they don't care much about us poor people here these days."
This may be part of the government's plan. One of the strategies outlined for the urbanisation process is to move people to smaller cities and prevent the major cities, most of which have seen population growth of at least 50 per cent since the start of this century, from bursting at the seams.
"Shanghai has very little space left, it's basically full up," one academic at the Shanghai Academy of Social Sciences told journalists a couple of years ago, noting that while the government was setting a target of twenty-five million people for 2020, the city's population had already nearly reached that level. (Official figures put it at over twenty-four million by the end of 2015.)
It may be no coincidence that, according to the official media, it's recently become harder for migrant workers' children to get into Shanghai schools, despite the local authorities having proudly announced a decade ago that they would remove such obstacles. Beijing has also tightened its rules.
Some new employment opportunities have undoubtedly been created in smaller towns in more rural areas, as state media are keen to emphasise. Yet it remains a challenge to persuade young people to abandon the dream of life in the kind of big metropolis they see in their favourite TV dramas. For many older migrants, meanwhile, returning home after so many years away from the land is not always easy. The government has acknowledged "unbalanced and inadequate development," particularly in many rural areas.
More investment in remoter areas is likely in the coming years, but modernising these regions takes time. And, as the Beijing intellectuals who signed the anti-eviction petition (and other experts) have asked, who will do the jobs being created in the big-city service industries and the consumer economy that the government continues to promote? Labour shortages have already emerged in less well-paid industries in Guangdong province — the "world's factory" — in recent years, not least in Shenzhen, where urban villages providing relatively cheap housing have been torn down to make way for new development.
Meanwhile, new schemes to give migrants better conditions in big cities— such as housing subsidies in the western city of Chengdu — often only benefit university graduates from other cities. And some warn that the schemes will only fuel a boom in already prohibitive house prices.
Following the recent crackdown in Beijing, some companies appear to be making their own efforts: online shopping mall JD.com, for example, promised to provide temporary homes for any of its delivery staff affected by the demolitions.
But in the current climate, where control seems to be the most prized quality among urban officials, finding creative longer-term solutions may not be so easy. Despite official pledges to press ahead with reforms of the household registration system, the Australian-based Chinese sociologist Bingqin Li has noted that these have been "less progressive" than many hoped.
It's a reminder of the difficulties involved in rebalancing China's urban–rural divide. One of the drivers of China's economic growth over the past three decades has been the fact that labour flowed to where it was needed — even though it was technically illegal for rural people to move to the cities in the early days of economic reform in the 1980s. Now that the government is again seeking to direct the movement of migrants, ensuring that jobs — and homes — are available in the places they move to may be one of the biggest challenges it faces in the coming years. •