---
"Yay-kob Tes-fay Sul-tan." In his austere office above Woolshed Street, Graham Excell is practising his pronunciations for the citizenship ceremony. "Say-eed Mohammed Tar-har."
As mayor of Tatiara District Council, the "good country" around Bordertown in the southeast corner of South Australia, the former shearer is keen to get things right. He doesn't want the mayor's mangling of their names to be the dominant memory of becoming Australian for these four new citizens.
"Beepa Masho Mangooka," he says, somewhat tentatively, perhaps conscious that he has an audience. I am watching artist and film-maker Malcolm McKinnon record Graham's efforts from the corner of the room. Sitting opposite the mayor, the council's executive assistant, Mandy Clarke, is encouraging, though she points out that Bipamacho Mbanguka's first name should not be broken up with a pause. "Beepamasho," he tries again, and she nods approvingly.
Mandy has taken the trouble to ask each of the candidates how their names are pronounced, and has written them down phonetically for the mayor. She's been careful to check if they're happy to be photographed for the Border Chronicle and to find out if anyone has any dietary restrictions, religious or otherwise, before ordering catering from the cafe up the road. She's also provided each candidate with an advance copy of the citizenship oath so they can prepare and won't be embarrassed by stumbling over words.
In the council chambers across the hallway, everything stands ready. The four certificates are laid out in order in crisp white envelopes, each accompanied by a commemorative $1 citizenship coin from the Perth Mint and a complimentary ticket to the Royal Adelaide Show. The Australian coat of arms and a portrait of the Queen are displayed as legally required, and a laptop and projector set up with a karaoke-style, singalong version of the national anthem. In the side room, where refreshments will be served, gift baskets for the new citizens are packed with Australian goodies – peanuts from Queensland, pure Australian honey, banana bread and the inevitable jar of Vegemite.
Mandy has checked and doubled checked the arrangements, but she's still a touch anxious. "I'm always a bit nervous before a citizenship ceremony," she admits. "Things can still go wrong." She remembers a pre-digital accident when they played God Save the Queen instead of Advance Australia Fair because the cassette had been put in the player the wrong way around. There was nothing to do but let it run to the end and then switch the tape over.
"People get very excited about their citizenship ceremony," Mandy says. "Some of them get quite teary. They feel free, liberated, now they are Australian citizens." This evening's four candidates are all from different countries in Africa: Yakob Tesfay Sultan from Eritrea; Saieed Mohammed Taha from Sudan; Ninneh Gowah Dewee from Liberia and Bipemacho Mbanguka from Congo. Ninneh and Bipemacho – known to locals as Morrison and Angel – are a couple. They have a toddler, Daniel, and a baby on the way.
"It will be interesting to see if the African lady comes in traditional dress," says Graham. "The Filipinos normally come very well dressed. Even the little kids. Girls in new dresses, boys in suits and ties." Although he's been mayor for less than two years, Graham is already something of a veteran when it comes to citizenship ceremonies. "A little while back we had a lot of Filipinos," he says. They had been recruited on temporary 457 skilled worker visas to work at the local meatworks. After their visas came to an end, the owners, Brazilian conglomerate JBS, made good on its promise to sponsor them for permanent residency. The final line in the company's mission statement is "the certainty of a better future for all our employees."
Bryan and Loreen Fuentes are beneficiaries of the JBS policy. Theirs is one of the many stories Malcolm has documented in Bordertown. The couple were living in Albany in Western Australia and working in an abattoir owned by a different company, their two young children left behind in the Philippines in the care of relatives. When Bryan's 457 visa was about to run out, the meatworkers' union helped him to find an alternative employer who would also sponsor him for permanent residency, or PR. JBS needed fifty workers, so "all up," Bryansays, counting partners and children, "125 people ended up coming to Bordertown, chasing for the PR."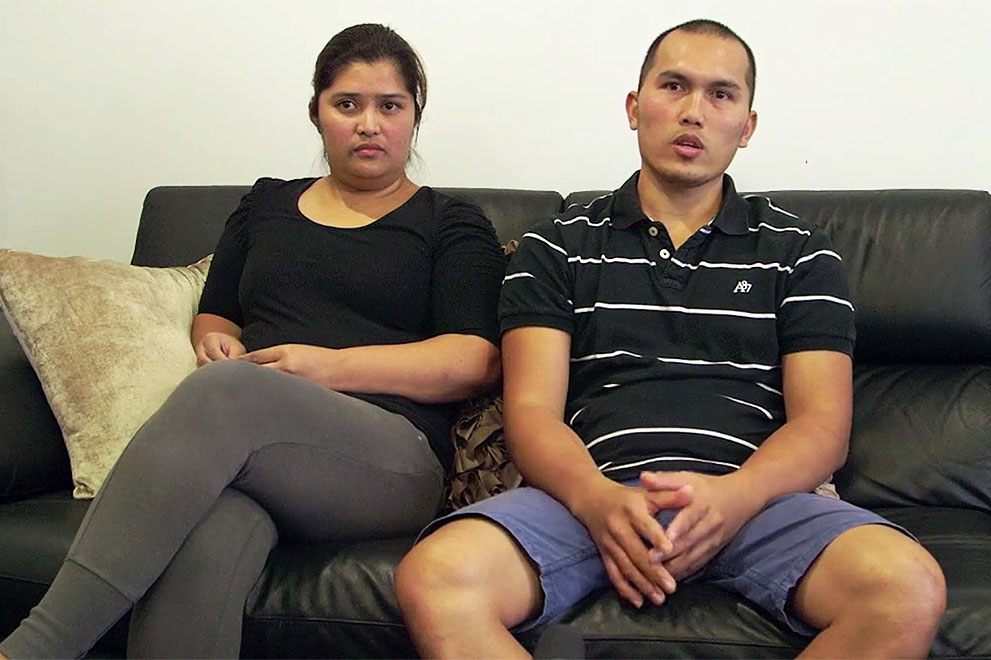 Loreen and Bryan Fuentes: separation from their son and daughter lasted "only" a year. Malcolm McKinnon
Bryan had moved to Australia in March 2006, when Loreen was pregnant. Luckily, the meatworks shut down for maintenance every year in July, so after three months he was able to return to the Philippines for the birth of his daughter, and return annually after that to celebrate her birthday. Sometimes he got to go back a bit earlier, in June, so he could celebrate his son's birthday too. Bryan spent his first three-and-a-half years in Albany alone, before bringing Loreen, but not the children, out to join him.
"We didn't want to bring the kids to Australia on a visa that is not secure," says Loreen. Their Australian friends are shocked at this, but Loreen says this is "not a strange thing to us." More than ten million Filipinos live outside their homeland; many are "guest workers" on fixed-term contracts in places like the Gulf States or Singapore, which don't allow them to bring family members with them. Others are undocumented migrants, living below the radar in rich countries like the United States, where they often work as housekeepers, caring for other people's children but never getting to see their own kids grow up. They can't go home, even for a holiday, for fear that they will not get back into the United Sates if they leave. Their families depend on the money they send home. Overseas workers remit around US$30 billion to the Philippines every year.
As a child, Loreen never saw much of her own father because he was a merchant seaman and often away at sea. For Bryan and Loreen, the separation from their son and daughter lasted "only" a year. After they moved to Bordertown and their pathway to residency became clear, they brought out the children too.
Loreen's first impressions of Bordertown were not great. She had flown into Adelaide in the daytime and thought the city looked grand. She had no idea that Bordertown – population 2800 – was another three hours away by road. "We arrived on a bus in the dark," says Loreen, "and there was no one in the streets." To their surprise, they discovered that there was already a small but established Filipino community in the town – mostly Filipinas who had married Australian men. "They held a welcome party for us so we felt at home straight away," says Loreen. Speaking good English and attending church helped them to establish connections with the broader community.
Now, after six years, the family are all Australian citizens and settled in a brand new brick house. Bryan coaches a local basketball team and sits on the kids' school council. They still miss the Philippines, especially family. "It's like we're half Filipino, half Australian," says Loreen. "The Philippines is my home. I'm still adjusting here," says Bryan. But there is no going back. "Dreams are possible here in Australia," says Loreen.
---
This story isn't unique to Bordertown. As the latest immigration department statistics show, "skilled meatworker" is the second-top occupation for 457 visa holders in South Australia, and the sixth-highest occupation grouping for 457 visa holders in Queensland. So versions of Bryan and Loreen's story are being played out in Murray Bridge and Rockhampton, and probably also in Cobram, Scone, Albany and elsewhere around the nation. In Australia, there are many bordertowns.
With around 470 staff, the JBS meatworks is Bordertown's biggest employer. Almost two-thirds of its workforce are migrants. But unlike the Filipinos who come as skilled employees on temporary 457 visas, many of the newer members of the company's labour force are asylum seekers and refugees who mostly arrived in Australia by boat. Plant manager Trevor Schiller says these workers are crucially important to the business: "From a regional point of view, Bordertown has low unemployment and without the migrant workers we probably wouldn't operate," he told the Border Chronicle in June this year.
Slaughtering and processing up to 8000 animals a day, the JBS plant helps keep local farming prosperous, supplying Australia and the world with Halal-certified lamb and mutton. Not only that, but by spending their wages in local shops, renting local houses that might otherwise sit empty and using local services, the plant's migrant and refugee workforce help the town itself to thrive. In direct contradiction of immigration minister Peter Dutton's federal election claim that "illiterate and innumerate" refugees would "take Australian jobs" or "languish in unemployment queues," Bordertown's migrants are not only working but also creating and sustaining jobs for local workers.
The largest group of refugees in Bordertown are Hazara, an ethnic minority from Afghanistan and Pakistan. As Shia Muslims, they have suffered persistent persecution, particularly at the hands of the Taliban and other Sunni militias. Alongside them are refugees from Iran, Sri Lanka and various countries in Africa. In fact, at least twenty-three different cultures are represented in Bordertown, and most have been drawn by jobs, especially at the meatworks.
The Australian Migrant Resource Centre recently opened new premises in the main street to provide a place to socialise, as well as practical support including English-language classes and help with such things as opening bank accounts, understanding phone bills, registering for Medicare, filling out the census form and dealing with Centrelink. Often another refugee with better English will act as a volunteer interpreter in such situations. Since there are no registered migration agents in Bordertown, centre staff can sometimes spend hours on the phone as the intermediaries between refugees and Adelaide-based migration lawyers or immigration department officers in Canberra.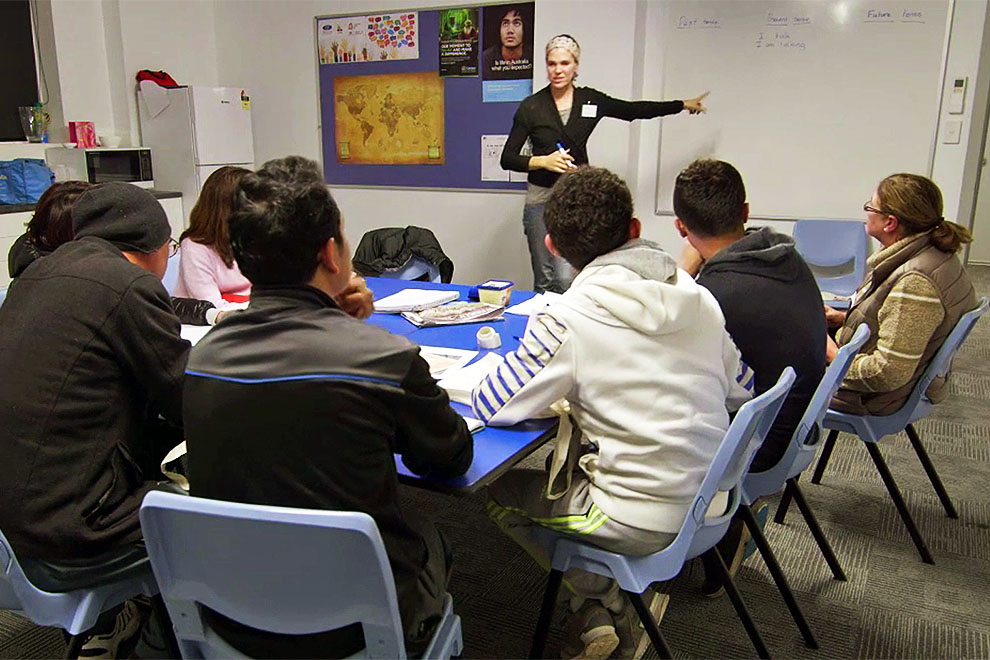 An English-language class at the Australian Migrant Resource Centre in Bordertown. Malcolm McKinnon
Some of the refugees and asylum seekers working at JBS have already been in Bordertown for four years, but unlike Bryan and Loreen Fuentes, they mostly remain unsettled. Many will find it difficult, if not impossible, to truly establish their lives here. The pathway to Australian residency from a 457 visa may be uncertain and precarious, but for many refugees such a pathway is all but non-existent.
In late 2014, the Abbott government reintroduced Temporary Protection Visas, or TPVs, for refugees who arrived by boat, a measure that affected the "legacy caseload" of around 30,000 asylum seekers who had arrived under the Gillard and Rudd governments but whose refugee claims had still not been processed. TPVs last only three years; after that time, claims for protection are reassessed. If refugees still face persecution in their homeland, they're granted another three-year temporary visa. The same process is repeated three years later, and so on, ad infinitum. Temporary visa holders can't sponsor family to join them in Australia, so if they have left a wife and children behind in Afghanistan, or in a refugee camp somewhere, as many of these men have, then they will be separated from their loved ones indefinitely, perhaps forever.
The only glimmer of hope they have of a settled life in Australia came courtesy of the mining magnate and one-time federal MP Clive Palmer. Recognising that many regions suffer severe labour shortages, Palmer convinced the Abbott government to create a second type of temporary refugee visa, the SHEV, or Safe Haven Enterprise Visa, to attract refugees to jobs in rural industries. This visa lasts five years rather than three, and holds out the slim prospect of permanent residency if a refugee works or studies in a designated regional area for at least three-and-a-half years without accessing any Centrelink payments during that period.
To become a permanent resident, though, a refugee on a SHEV will still have to jump through many more hoops. Usually this means meeting the criteria for skilled migration – that is, having a qualification or trade that is in great demand in Australia – as well as meeting age, health, character and high-level English-language requirements. As Scott Morrison (then immigration minister) put it when the visa was introduced, "this is a very high bar to clear" and the opportunity for refugees to move from a SHEV to permanent residency is "very limited." Three-and-a-half years as a diligent process worker on the floor of a meat packing plant won't make the grade. As things stand, the "temporary" visa system condemns most people who arrived by boat to a life of permanent heartbreak, loneliness and uncertainty.
Some refugees, like twenty-year-old Mujtaba Peyvandi, known as MJ, are luckier, having arrived earlier, when permanent protection visas were still being granted to "illegal maritime arrivals." MJ was a teenager when he came to Bordertown. He spoke little English but learned quickly and was excited that he would finally get a chance to go back to school and continue his interrupted education. "I really wanted to study," he tells Malcolm in an interview. "I want to go to uni. I want to be a lawyer or a senator and go into parliament." MJ says his heroes are Martin Luther King and Anne Frank, "people who have done things that changed history."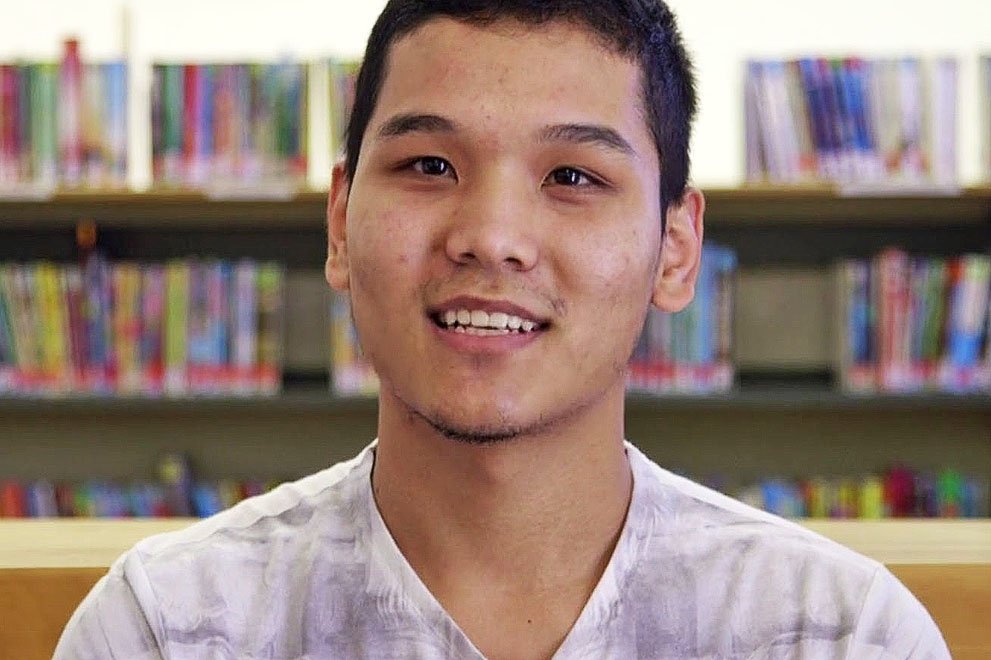 "Very high ambitions": Hazara refugee Mujtaba Peyvandi. Malcolm McKinnon
MJ secured an afternoon shift at JBS so that he could attend school from 8am to 3pm and then process and package lamb at the meatworks from 3pm to midnight. It didn't last; not because MJ lacked the stamina for such a punishing schedule but because market conditions forced JBS to reduce staff and change its roster; for now, the meatworks only operates a single day shift and for family reasons MJ has to prioritise earning over learning. MJ's mother, father and two siblings all work at JBS. "People say to me that 'Oh, you guys must be rich,' but we're not," he says. The family, who are now Australian citizens, live simply and put every spare cent towards the cost of bringing other family members to join them in Australia. So far, they have managed to bring out one brother and his family at a cost of tens of thousands of dollars.
In his spare time, MJ volunteers at the Migrant Resource Centre, interpreting for other, usually older, Hazara refugees, helping them fill out forms or accompanying them to the bank or the doctor. Compared to the city, he says, Bordertown is quiet, safe and affordable. "Everyone here is really friendly," he says. "People are not racist." Yet MJ thinks that the best he can hope for in the town is to become a skilled worker at JBS, a slaughterman or a boner, who get paid the highest rates. He believes that he will have to go elsewhere to achieve his "very high ambitions."
---
On my brief visit to Bordertown I don't get to visit the meatworks itself, but Malcolm shows me the photographs and videos he has shot inside the plant. It is a highly regimented, highly efficient production line from the moment a stunned sheep slides down a chute to have its throat expertly slit right through to the cling-wrapping of rib roasts and chops ready for the supermarket shelf. In between, huge hydraulic shears sever heads from torsos in one massive cut, and rapidly spinning horizontal blades slice through backbone to separate forequarters from hind. There are stainless steel surfaces, white plastic tubs lined with blue plastic sheets, rubber conveyer belts, hooks and knives, and everywhere constant motion.
Men and women work side by side, adorned in white coats or aprons, white hard hats, blue gloves, black earmuffs, plastic sleeve protectors, hairnets and safety glasses. They labour in steady, focused, non-stop movements – an intense, repetitive dance to match the squealing, clunking music of the machinery. Despite the inevitable blood and guts, I am surprised that the messy work of butchering can appear so clean and orderly.
The facial characteristics of the workers reveal a wide diversity of backgrounds, but the intensity of the work and the muffling of eyes and mouth leave little opportunity for conversation. While people work closely together, it is hard to imagine how they could form connections and emotional bonds. MJ says he has made friends in the lunchroom, but even on breaks there are barriers of language and exhaustion to overcome. Outside work, there is also a risk that locals and migrant workers will lead parallel lives.
Bordertown is a small, conservative town. It has a stable population whose family attachments to the Tatiara often stretch back generations. According to the 2011 census, more than 80 per cent of the town's population was born in Australia, and 75 per cent of residents had two Australian-born parents (compared to an Australia-wide average of 54 per cent). When newcomers arrive, they generally establish social connections through sport, school and church, but this can take time, even for Australians. Newly arrived refugees are unlikely to play cricket or AFL football, and many are single men without children at school. If they are from a Muslim background, they won't attend church and they generally won't drink, which means the social lubricant of alcohol is also not available.
Not that Bordertown is a hostile environment. There are occasional outbursts of anger and misunderstanding, like the time when a local worker "lost it" and became abusive at a meeting at JBS because he objected to everything being translated into other languages for migrant staff. There is some low-level anxiety about the fact that many of the refugees are Muslim. Overall, though, after numerous visits to Bordertown in recent months, Malcolm thinks the lack of connection between locals is not a product of rudeness, racism or fear. Rather, he has gained the impression that many locals don't reach out to the newcomers because they see the migrants as "just passing through." Added to this is uncertainty about how to breach the cultural gulf.
---
Spiro Tsaousoglou shares this view. He says that locals are generally "very accepting" but "don't know how to make connections." Spiro migrated to Australia as a baby from the Greek island of Rhodes and has lived in Bordertown for fourteen years, running an IT business. When locals kept asking him how they could come to meet the recent arrivals, he responded by setting up social soccer games. In an on-camera interview, he tells Malcolm that he wanted to be able to put his arm around a refugee's shoulder and ask, "How was your week?"
Spiro knew he needed to create an environment that would make such interactions possible. Since soccer is "a universal currency," he uses the games to "create an atmosphere for anyone to be able to come and join in and not have to step on unfamiliar ground." With up to forty people turning up to play, there are now two matches every Sunday. "Everyone has a need to be 'friended,' to be part of the community; we all want to be accepted," says Spiro. "We just have to put ourselves into their shoes. If we had to migrate and move over to their country, how would we want to be treated?"
Other Bordertown residents are also reaching out to the strangers in their midst in ways that give expression to country hospitality, Christian kindness or their own experiences of arriving as an outsider.
Pat Martlew, a local woman mindful of her own experience as a migrant from Britain many years ago, organises weekly in-home English classes and lunches for newly arrived migrant women who are at risk of social isolation. Retired farmer Denis Russell is a volunteer English-language teacher at the Migrant Resource Centre who sees his involvement as an act of receiving as much as giving. "It's very rewarding," he tells Malcolm on camera. "I'm discovering a lot of things I didn't know." Denis, a lover of fine food, has formed a close friendship with a particular refugee who now cooks him elaborate Iranian meals once a week.
Former midwife Pam Copping and retired teacher Gwen Fisher pair up to run a weekly class to help refugees and other recent migrants prepare for the Australian government's citizenship test. "Much of it I didn't know myself," says Gwen. Citizenship is a necessary step for refugees to bring immediate family members to join them in Australia, and Pam recently witnessed a father from Afghanistan being reunited with his wife and children after many years' separation. "It's just so beautiful to see," she says. It made her feel "so happy and so good."
Refugees on temporary protection visas are forever denied such joy, but even those on permanent visas are finding this cherished goal has is being pushed out of reach. It is technically possible for a refugee on a permanent protection visa to sponsor family members, but such applications are given the lowest priority for processing. In other words, they never make it to the top of the bureaucratic pile. That is why citizenship has such a high priority for recently arrived refugees. Once they have citizenship, they can get their families here faster.
But even refugees with permanent status are encountering barriers, because the government is deliberately delaying applications for citizenship from refugees who came as "illegal maritime arrivals." They might meet all the legal requirements for citizenship, having lived in Australia on a permanent visa for four years and passed the citizenship test, but they can't be confirmed as citizens until they attend a citizenship ceremony and swear the citizenship oath.
Thousands of refugees are queued up, waiting for their invitation to attend such a ceremony. The immigration department says it reaches a decision on 80 per cent of citizenship applications within eighty days, yet a survey of hundreds of refugees by the Refugee Council of Australia in October 2015 found they had been waiting an average of 215 days for an invitation to attend a citizenship ceremony. Some had waited more than 600 days. Two Hazara refugees have now challenged the immigration minister in the Federal Court for not exercising his powers within a reasonable timeframe. The case was heard in July but a decision is yet to be handed down.
The damage done by indefinite delays to citizenship applications mirrors the emotional and psychological harm done by temporary protection visas. Refugees who came as single men and left wives and children behind in their homeland or in a refugee camp are unable to get on with their lives. As long as they are separated from their immediate family, it is very difficult for them to settle. This contributes to the gap between refugees and locals by preventing the new arrivals from forming lasting ties to Bordertown. Until their family is reunited, they can't put down roots here or anywhere else.
---
Back in Woolshed Street, Malcolm and I join friends and relations on the lurid green chairs at the rear of the wood-panelled council chamber. Resplendent in dress shirt and waistcoat, Morrison and Angel's toddler son Daniel is wandering happily about the room, finding himself in constant demand for photographs. His parents are also dressed to the nines. The ceremony goes smoothly and then there is much happiness, laughter and many more photographs over tea and sandwiches. I meet ninety-six-year-old Arthur Milne, who used to cultivate the land where the JBS meatworks now stands. He can remember working with draught horses, and the good years with plenty of rain after he returned from service during the second world war. He welcomes migrants coming and says they keep the town alive.
On the edges of the gathering, though, there is sadness. Citizenship ceremonies in Bordertown are usually held together with council meetings, but this one has been timed specially to coincide with Pam and Gwen's weekly citizenship class at the Migrant Resource Centre. They wanted their students to come along and witness proceedings so they know what is involved when – or if – their own turn comes.
I chat to one of the participants in the citizenship class, a dignified Hazara man who arrived in Australia in 2010. He spent almost two years in detention in Curtin and has now lived in Bordertown for four years, working at JBS. He hasn't seen his wife and young son for six years, and tells me he dreams of bringing them to join him in Bordertown "so we will live together as a family." With deliberate and persistent effort, he has learnt excellent English. He has been granted a permanent protection visa and is ready and qualified to become a citizen, but he fears it won't happen for a long time yet, if at all. He says some friends submitted their applications eighteen months ago and are still waiting for an invitation to a ceremony.
Australia's border protection regime doesn't just involve airport immigration officers and coastal patrol vessels. It doesn't stop at Christmas Island or Manus or Nauru. It reaches deep into the Australian countryside, into rural industries, regional centres, council chambers and even human hearts. In Australia, every town is a bordertown. •