To somebody watching this boat from outside, it would mean nothing but crowds of people sitting packed close together, gambling their lives, shamelessly ignoring the limits of laws. We probably look like sheep loaded in the back of a truck, waiting to get to the slaughterhouse… To someone watching us from outside, we have neither identity, nor personal story, nor memories, nor justification about why we are here, on dark waters…
– , Waltzing with Dark Waters
---
I was playing a soccer match back in 2011, a few months after I'd arrived in Adelaide to start studies for my PhD. While we were resting between the two halves of the game, a teammate whispered in my ear, "Do you know how Majid came to Australia?" He pointed to a player sitting on a bench at the other side of the field. I said, "No," and my teammate said, "By boat." I remember feeling incredulous and could not believe what I was hearing. It was so hard to imagine that someone from Iran, the heart of the Middle East, had come to Australia by boat, and to know he was only one out of thousands. Our conversation did not last more than ten minutes but I did finally believe that it was a true story of a real life. My teammate had opened a new window to the world of this type of asylum seeker in Australia: people who risk their own and their families' lives to reach the Australian shore, the border of "heaven." As an author who was looking for a new, controversial subject to write about, I couldn't have heard anything more interesting. So I approached Majid after the next week's match and invited him to meet with me at my place.
Majid was thirty-five years old when I met him. He had completed a bachelor's degree in English literature at one of the highest-ranked Iranian universities and was working as a teacher in his homeland. His political activities then forced him to flee Iran. At the time I was interviewing him, he was married to an Australian woman and they were waiting for the birth of their first child. He was working as an official interpreter and translator for Iranian and Afghan clients in Adelaide. We spoke for five hours on a sunny Sunday afternoon. During our conversation I was overwhelmed and shocked by his touching story. He generously explained to me all the steps of his journey – a deadly adventure that started from Tehran, continued through Malaysia and Indonesia, and eventually ended on Christmas Island in Australian territory. Later, when listening to our recorded conversation over and over, I felt compelled to start research on the story of these people. Majid then helped me to find two other people who had come to Australia the same way. I developed my network gradually and talked to more and more people. I even obtained permission to visit an Iranian family among the new arrivals who were kept in the Inverbrackie detention centre near Adelaide. My story was born of the sorrow and pain of the "others."
Looking back to 2011, when I started to learn about those heartsick people around me, I see a considerably more generous Australia when it came to treating this type of asylum seeker. Although the immigration department's policies did attract serious criticism, that era was in no way comparable with today, when Australia is struggling with a range of moral challenges, including its totally unacceptable offshore processing. The federal government has not even been trying to repair Australia's damaged reputation about this humanitarian disaster. Instead, successive governments have insisted, directly and indirectly, on continuing Australia's inhumane behaviour against these vulnerable people and drawing a line between them and the rest of the community. I cannot forget the radio, television and newspaper advertisements from 2013: "If you come here by boat without a visa you won't be settled in Australia." One could also see the same advertisements on YouTube. Through a pervasive media campaign naming these asylum seekers as "illegal," the government has set them apart from society and paved the way for Australia to be less liveable for this minority.
The isolation that resulted from this media campaign was felt not just by those asylum seekers living in Australia on temporary visas. People who had been granted permanent humanitarian visas, and even those previous refugees who had gained citizenship, also felt excluded. In the case of Iranians, who made up most of the asylum seekers on the boats after 2013, it was even more complicated. Before the number of people coming to Australia on boats soared in the last decade or so, the Iranian community in Australia consisted of educated and skilled workers, and students – mostly doing their postgraduate degrees – who had migrated to this country through "legal" processes. The United Nations had also been sending some Iranian refugees to Australia, whose claims had been assessed and accepted in UN offices in countries such as Turkey. The government's propaganda against the new sea arrivals brought Iran to media headlines in a way that made the majority of the Iranian community feel very uncomfortable. I remember that in conversations with non-Iranian people about Iran, we would often end up talking about the "boat people."
This media invasion made the Iranian community react. While part of this community tried to support the asylum seekers, other Iranians, who were ashamed of seeing their country's name disparaged in that way, took the opposite view. They saw themselves as deserving to live happily in this country because of their contribution to Australian society, so they condemned the "boat people" and the way they violated the immigration laws that belittled Iranians in Australia. Thus, for Iranians, the government policies brought about two major confrontations: first, between the "boat people" and the Australian public; and second, between Iranian asylum seekers and a considerable part of the Iranian expat community.
---
Since the government's first "legal" act against the "illegal boat people," digital media have played a significant role in presenting the different voices engaged in these events. Thanks to the democratic nature of Australian politics, the mainstream media have produced various programs, debates and news that have reflected both positive and negative opinions about asylum seekers. And the government has had plenty of chances to present its case, given its easy access to public media. What I want to discuss here, though, is the way asylum seekers and their supporters have used digital media to communicate their views, and to be heard. Three recent cases illustrate the essential role of digital media.
The first concerns Reza Barati, a twenty-three-year-old asylum seeker from Iran who was killed in an Australian offshore detention centre in Papua New Guinea. He arrived in Australia in July 2013, after the "PNG solution" was announced; he died in February 2014 from a cardiac arrest caused by severe head injuries he sustained during violent unrest at the Manus Island detention centre. Initially, this news blanketed the internet, and I was one of many who saw his name on Facebook and read the shocking news of his death. People immediately used social media to show their sadness about what had happened to Reza, to spread information, and to contribute to the ongoing conversations about the remote detention centres and offshore processing. The hashtag #RezaBarati was soon spreading on Twitter, beginning with this tweet:
#RezaBarati #refugee was murdered on #Morrison watch OUR watch Humane onshore processing must start now Where's the feckin leadership?
Hundreds of tweets with this hashtag followed, expressing dismay about the Australian government's actions, and people also protested on Instagram, Tumblr and Facebook. People were still shocked by the news of Reza's death when organisations began to call for demonstrations in his memory. Among them was GetUp!, Australia's largest campaigning community, which organised candlelight vigils in all the major cities of the country. This invitation was reposted by many users and also on popular activist pages. As the Guardian reported, the result was that numerous gatherings were held in some 750 sites all over the country on 23 February, with around 15,000 people protesting against the government's policies.
People who could not attend the gatherings posted photos of lighted candles on social media. Thousands of posts with the hashtag #LightTheDark flooded the internet over several days. This call, originating and developed in cyberspace, reached its goal on the street; then the evidence of its success was published and documented, again in cyberspace. Everyday people used digital media for two main purposes in Reza Barati's case: spreading information globally, and challenging the government's decision about sending asylum seekers to Papua New Guinea.
---
In February 2014 the public was also shocked to hear the news that the Australian Border Force had towed a boat carrying thirty-four asylum seekers back to Indonesia. In March 2014, the ABC broadcast an investigation of the incident. The journalists interviewed some of the passengers who were towed back, providing viewers with firsthand, shocking information about how the Australian immigration minister at that time, Scott Morrison, managed to prevent the boats from coming here.
The program aired footage recorded by one of the people trapped in an orange lifeboat being towed by an Australian Customs patrol ship. At the beginning of the video we hear someone saying, in Persian (Farsi), "Be careful, not to be seen!" It is clear that the Australian forces were not aware of the mobile phone that was on board. The reporter noted that this is the "first filmed evidence of a tow-back." The story about the plight of these people from Iran, Pakistan, Bangladesh and Nepal provoked a range of angry feelings about the government's strategy to stop the boats in Australian territory. This was not the first time that asylum seekers had used digital technology to defend themselves, nor would it be the last. Cheap mobile phones with a digital camera have enabled "boat people" to report incidents and facts about their situation in remote detention centres to the Australian public. They use the mobile internet to send evidence to their contacts, and so a quick search on Google brings up a range of amateur photos and videos about the hunger strikes, water shortages, and unacceptable conditions and behaviour in these remote Australian processing centres.
The third case is about Nazanin Bagheri, a young asylum seeker who was raped on Nauru in May 2015 when she was returning to the camp after visiting friends on the island. She was found naked outside the camp and was so traumatised that she was unable even to talk to her family. What brought Nazanin's name to the headlines was the way the Australian government treated this victim by separating her from her family and refusing to send her to Australia for proper treatment. The public became aware of her soon after this news was circulated on social media. As in Reza Barati's case, people challenged the government on social media and asked Peter Dutton, the immigration minister, to take immediate action. Unlike the other two cases, Nazanin's had a sense of urgency about it and an immediate response was necessary. Social media users, again, used all possibilities to give visibility to the story of Nazanin and her intolerable situation.
Lena Hattom, an Australian citizen, started a petition on Change.org accompanied by a description of Nazanin's condition, which ended with:
Sign this petition – tell Peter Dutton, Minister for Immigration, that Australians want Nazanin to receive the care that she needs, here in Australia. The government may think that we don't care about asylum seekers, that their lives are meaningless and that crimes perpetrated against them can be dismissed, but that's not the Australian way. Nazanin is a young woman with her whole life ahead of her, let's get her the treatment she needs and spare her family the anguish of another life lost in detention.
I spoke with Hattom about her experience running this petition. Although she had contributed to a handful of online petitions before, this was her first experience as an initiator of one. She explained that she hadn't expected too much: "I started the petition on a Thursday afternoon and didn't expect more than one hundred signatures." Within hours, Change.org informed her that fifty people had signed. Two minutes later, it was one hundred. "Let's just say my heart skipped a beat," she said. By that night her petition had gained 1000 signatures. She then contacted all the media outlets that she knew of to give her petition more publicity. Some picked up the story. This online petition went viral and was circulated across different social media sites. People started to invite their friends to sign the petition.
Grace Jennings-Edquist then published an article about Nazanin's case on the largest women's website in Australia, Mamamia, which has been shared more than 1000 times. Mentioning that Peter Dutton's office did not answer her request to comment, the journalist encouraged her readers to sign the Change.org petition or contact the minister directly.
Hattom said, "The signing rate was exponential and that first big day it reached about 5000. Every day thereafter 1000 or more signed, so after one week, 15,000 had signed." While she had hoped for 10,000 supporters at best, she sent the request to Peter Dutton with 15,000 signatures after one week. Then, on 20 August 2015, Hattom published a post on her petition's Change.org page, entitled "Victory!" Referring to an item on the ABC, she gave the good news:
Nazanin has been flown to Australia for medical treatment. She is now on her way to receive the adequate care that she desperately needs… Thank you again to each and every person who signed and shared this petition. Your passion and support was moving and inspiring. Together, we showed the Australian government that Nazanin's life matters.
Measuring the impact of cyberactivism on ongoing social and political realities is hard, as various factors are involved. Hattom was not sure about the impacts of her petition on the government's decision, as she knew there were others supporting Nazanin in their own ways. She thought, however, that "the petition had a wide reach and because of it, more people knew her story, something the government is – I believe – actively trying to prevent." Nazanin's case is an outstanding example of how digital media can serve social justice by, if nothing else, uncovering the realities for the public.
---
In all three examples I have given, the activists used everyday digital media tools ­such as mobile phones and Twitter. There were no complicated procedures or operations used in any of the cases. Everyday citizens just needed to have normal access to a device that was connected to the internet, and to be able to use their email and social media tools to collaborate in such an activity. In the first two cases – Reza Barati and the returned boats – digital media helped make society aware of controversial, ongoing issues. Although Reza Barati cannot get his life back, the candlelight vigils and all the associated online activities resulted in a collective awareness that has had indirect effects on subsequent decisions made by the government. And nobody can compensate for the physical and emotional pain that Nazanin Bagheri has suffered; however, the Australian public has successfully demonstrated that it has the power to change our government's decisions when necessary.
These are just three civic actions out of many that have been initiated and developed using digital tools since the "boat people" crisis began in Australia. The current situation is very different from 2013, when Tony Abbott was enforcing a strict position against these people. The manufactured confrontation between Australian society and asylum seekers has now been considerably weakened by Reza Barati's death and subsequent incidents. With the increase in general support from the Australian public, those Iranians who felt upset by the asylum seekers have also became more relaxed. I spent almost two years writing a novel, Waltzing with Dark Waters, to help calm this antagonism. I reflected on my interviews with Majid and others, and on what I had learned from my research, to help the readers and these people come closer together – to eliminate the distance between the observer and the victim. The novel ­– in Persian – has been published online, as a free ebook to make it more accessible. In 2014, my colleagues and I at Radio Shahrzad produced an audio version in eleven episodes, which is also available online. In September 2015, I was contacted by an illustrator, Farnaz K. Jahani, from the United States. She sent me a copy of one of her artworks (below) and said:
I accidently found Waltzing with Dark Waters a few months ago. I listened to it for one, two, three times… I listened to each episode of it several times, but nothing became usual… At that time, the news about asylum seekers getting drowned in the sea was broadcast here and there. Your shocking story made me want to paint this painting one day. I do not know why I have not sent it sooner… While the story was getting faded in my mind I still could hear the bubbles in my ear. Last week, when they found the dead bodies of Syrian asylum seekers in that truck in Europe I returned to your story again… Just wanted to say thank you!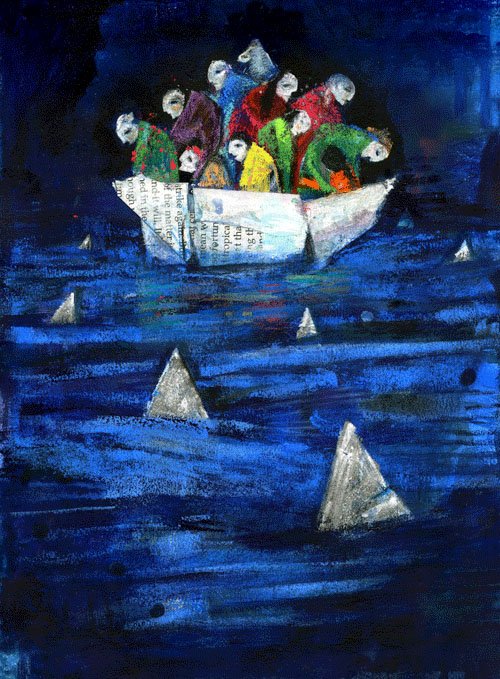 Her message is just one sign that awareness about the disastrous situation of asylum seekers in Australia has spread around the world. Thanks to the development of digital tools and media, and the promising number of users who actively contribute to social and political issues in our participatory culture, we can expect more development in the level of social justice in our community in the future. Yes, it is the twenty-first century, and Majid, Reza, Nazanin and other asylum seekers are among the voices that are being heard. •