---
Norman Mailer was four days from announcing his campaign to be New York's mayor when, in November 1960, he hosted a friend's birthday party in his apartment on 94th Street. Mailer's intentions were not purely celebratory. As a prelude to his campaign he had friends round up less illustrious guests — people recently released from prison, the homeless, teenage delinquents, and more — to mingle with the elites he'd invited.
Somewhere between 150 and 200 people showed up, and the party quickly degenerated into fighting, much of it at Mailer's instigation: he greeted at least one guest at the door with an invitation to box. The drunk host tried to fight George Plimpton, assaulted another man who in turn punched him in the jaw and drenched his shirt in blood, then left the party. He returned, left again, and returned finally at 4.30am, by which time there was barely anyone left.
Without warning, Mailer approached his wife, Adele, and stabbed her with a penknife: once in the back and once, thrusting upward, from the front beneath her lower ribs. Shocked friends lay her down and called a doctor, who in turn called an ambulance that took Adele to hospital for life-saving surgery.
To attend to Mailer, meanwhile — who had begun scribbling in a diary — his friends called a psychiatrist and then drove him around in a car, hoping to calm him down. They also began to obfuscate about what had happened (one, seeing Adele off in the ambulance, told her to tell anyone who asked that she had fallen on a broken bottle). They sought out a retired detective who told them that police enquiries would be best frustrated by Mailer's leaving New York: Mailer volunteered to go to Cuba. Then they took him to the hospital where Adele lay recuperating. "Do you understand why I did it?" he asked her, as she begged for him to be taken away. "I love you and I had to save you from cancer."
That afternoon Mailer went to a television station to record an interview for his mayoral campaign, where he talked about knives as symbols of manhood and laughed off questions about his black eye. He met briefly with a doctor and then returned to his apartment. There he was arrested and, after being formally charged, detained in a psychiatric hospital.
By February 1961, Adele was refusing to make a police complaint or sign a letter agreeing to formal charges. With the police stymied by Mailer's friends, the matter was downgraded: by March he was facing only a charge of felonious assault, for which he would eventually receive a three-year suspended sentence.
In the meantime, he gave a reading to an audience at the 92nd Street Y, a Jewish cultural centre in Manhattan. The event had been organised much earlier, when Mailer was known predominantly for his bestselling novels, his idiosyncratic column in the Village Voice and his controversial essays and polemics. But it was his assault on Adele that most interested his audience. With the charges still pressing, and Mailer's mayoral campaign not yet ended, there was an air of expectation, of anticipation, among those present. What would he say? What would he read?
The answer shocked. Noting he had written nothing but poetry since November past, Mailer read the following words: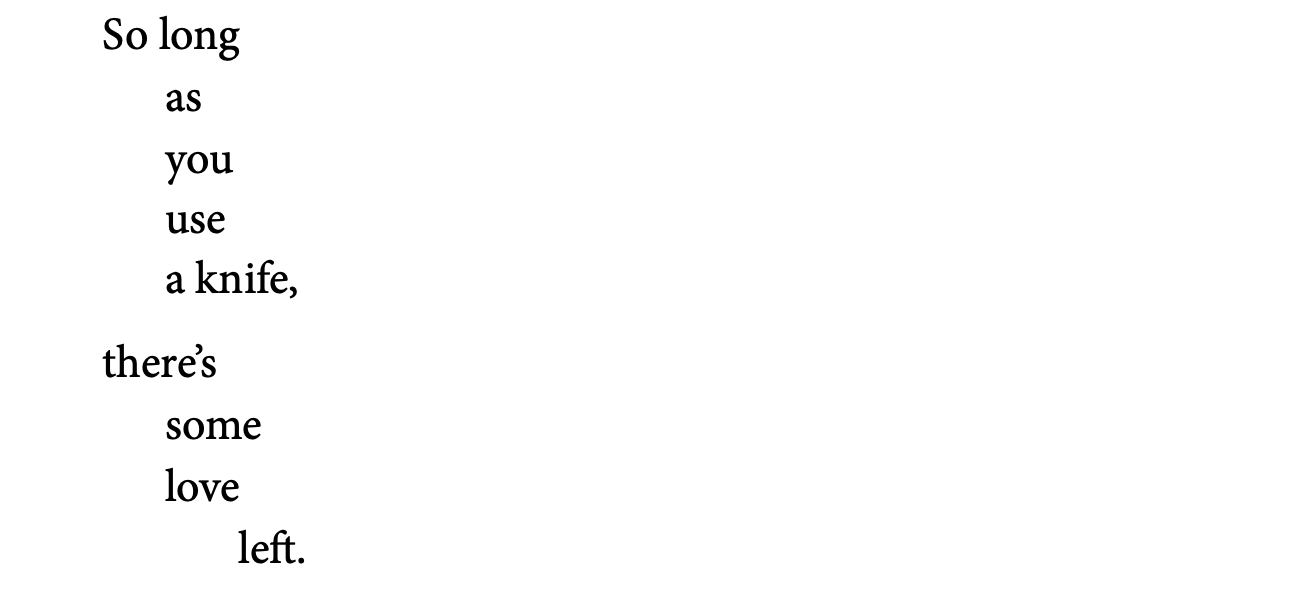 At these lines, the centre's educational director ordered the curtain lowered.
---
A curtain call of some kind is probably appropriate for Mailer, who died in 2007, aged eighty-four, leaving behind six wives, nine children (one of them adopted) and a shelf's worth of books: thirteen novels, nine works of what Mailer calls non-fiction, two volumes of poetry, a screenplay, a play script, a book of short stories and more besides. Much like John Updike and Philip Roth, two other giants of mid-to-late-twentieth-century American letters, Mailer's literary reputation has shrunk as much as his personal reputation.
While some of his works retain their fame and admirers — The Naked and the Dead (1948), The Armies of the Night (1968) and The Executioner's Song (1979), in particular — others have been re-evaluated against contemporary standards and found wanting or beyond the pale, much like their author.
Last year, Mailer's long-time publisher Random House declined to publish a posthumous collection of Mailer's essays after staff objected to the inclusion of "The White Negro," a provocative and distasteful essay about (among other things) minority groups as models for resistance to totalitarianism. "You can't cancel Norman Mailer," his son said, and as if to prove it the collection was picked up by Skyhorse, the US publisher that has made a specialty of publishing books dropped — or "cancelled" — by mainstream publishers. (Other titles on the Skyhorse list include Woody Allen's Apropos of Nothing and Blake Bailey's Philip Roth: The Biography.)
Rehabilitation may yet come for Mailer's literary works, but if it does it will owe nothing to Richard Bradford's new biography, Tough Guy: The Life of Norman Mailer. An English literature academic at Northern Ireland's Ulster University, Bradford apparently comes well credentialed: he has written or edited more than thirty books, lives of John Milton, Philip Larkin, Kingsley Amis and Martin Amis, among them.
Yet most of Bradford's biographies bear unmistakable warning signs: produced quickly to coincide with anniversaries and using the first-hand research of earlier biographers whom Bradford treats gracelessly rather than gratefully. His books are prone to sweeping judgements, pocked with repetition, errors and inconsistencies, scornful of artistic successes, damning rather than insightful, and depressing as examples of the belief among publishers that any book about a famous person will sell, irrespective of its flaws.
The most notable aspect of Bradford's biographical practice, though, is his palpable disdain for his subjects. His Ernest Hemingway (2019) is a mendacious liar and artistic failure; his George Orwell (2020) is a depressed clod with feet of clay; his Patricia Highsmith (2021) is an unredeemable grotesque. Bradford's dislike seems so avid that it is possible to empathise with Martin Amis's dismay, voiced after reading the first draft of Bradford's biography of him: "It is quite something to have a biographer who is even more hostile and mendacious than even the scurviest of tabloids." It is yet another to then think, as Bradford did: "That would make an eye-catching cover blurb."
Tough Guy is consistent with the above. It has been published to coincide with the centenary of Mailer's birth and comes hard on the heels of Bradford's Hemingway, Orwell and Highsmith. It is drawn almost entirely from earlier Mailer biographies, to the point that when Bradford refers to archival or unpublished material he invariably cites the stocky biographies by Peter Manso or J. Michael Lennon (whose cover image Tough Guy also filches).
The inconsistencies, errors and repetitions accumulate: Mailer stabs Adele in the kitchen on page two and in the dining room on page 152; we are told the story about Mailer starting a fight over his poodles Tibo and Zsa Zsa three times. Tough Guy is cluttered with abrupt dismissals and declarations of absolute truth, making the same banal argument for 300 pages: namely, that Mailer was a self-aggrandising narcissist who mined his own life for his work.
The Fight, Mailer's account of Foreman vs Ali, aka the Rumble in the Jungle, is "an exercise in self-aggrandisement." Harlot's Ghost, Mailer's swollen spy novel, is less about the CIA than "a labyrinthine extension of Norman Mailer." On Mailer's final novel, The Castle in the Forest: "He chose to write about Hitler because he had exhausted all other exhibitions of literary self-aggrandisement."
The big claim of Tough Guy, the ostensible rationale for its existence beyond the centenary, is that "Mailer's life comes as close as possible to being the Great American Novel; beyond reason, inexplicable, wonderfully grotesque and addictive." Tossed out in the introduction like bait, it's interesting enough to warrant turning the first page. But after Bradford's failure to take it up again, to expand on it or substantiate it in any way for 300 pages, the claim seems less like bait and more like an undersized fish: best thrown back in the water.
The PR guff advertises Tough Guy as "merciless" and in every way this is true. The book is joyless and unremitting in its efforts to take Mailer down. Bradford allows no disreputable incident to pass without condemnation, no mitigating circumstance to ameliorate judgement, and certainly no achievement to escape without belittling. Given Mailer's behaviour, there is much to work with. Even so, Bradford's contempt for his subject is notable.
Take The Naked and the Dead, Mailer's first novel, about a platoon of marines fighting against the Japanese in the Pacific during the second world war. Written when he was twenty-five, The Naked and the Dead sold 70,000 copies, was adapted into a film, launched Mailer's literary career as if he had been "shot out of a cannon" (as he put it) and was described by George Orwell in 1948 as "the best war book of the last war yet."
In the longest consideration he gives to any of Mailer's titles, Bradford stresses the real-life counterparts to characters and the letters Mailer sent home from the war and then recycled. He points to similar passages, notes critically where words have not changed, derides suggestions that Mailer had portrayed something more universal than his own impressions, and declares that everyone in it "carries a trace of Norman Mailer" (there's that self-aggrandisement again). The Naked and the Dead, Bradford judges finally, was acclaimed "not so much for its intrinsic qualities" — about which he says nothing — but because it launched a "brutally realistic subgenre of military fiction."
Anyone expressing admiration for Mailer's work gets similar treatment. The Armies of the Night won the Pulitzer Prize and National Book Award but Bradford regards the judges and critics who praised it as "cultural mongrels." The Executioner's Song won another Pulitzer but is an exercise in condescending literary ventriloquism and was celebrated by "critics who saw themselves occupying the intellectual high ground." One Mailer biographer terms Marilyn: A Novel Biography (1973) exactly that — a novel biography — but Bradford begs to differ: "A more accurate description would be verbal masturbation."
"Bradford strikes again," the blurb tells us. No, he doesn't, and even if he did this is not a virtue to aspire to. The blows Bradford lands on Mailer are well telegraphed by the supercilious tone and land feebly in predictable places. Reading this unrelenting crusade to lay Mailer out on the canvas only reminded me of how, in the 1950s, Mailer paid former professional boxers to spar with him. He became convinced that he held his own with them, but in truth they were pulling their punches and Mailer's own blows were only moderately effective.
The titular tough guy of this book is supposed to be Mailer, but it seems better applied to its author. His publisher calls this book "unique, snappy, and convincing" but it is limp, trite and alienating. In any event, to be proud of a biography that claims to extend no mercy, which glories in striking at a subject, is bizarre.
Mailer was a pugnacious and controversial writer whose work was often maddening and indulgent. But his propensity for causing outrage was, to some extent, cultivated and affected so that he might extinguish, once and for all, the "last remaining speck of the one personality he found absolutely insupportable — the nice Jewish boy from Brooklyn."
A more thoughtful biographer might have pursued this line of enquiry, which comes via Mary Dearborn's 1999 Mailer biography. (Bradford misnames her "Dearlove.") A more judicious inquiry might also have provided more empathy than this book extends. It might have found more light and depth in the contradictions of a man who could be violent, offensive, quarrelsome, brutal, compelling, insightful, illuminating and needy — sometimes all at once. As Mailer wrote to Hemingway, in 1955, enclosing a copy of his second novel, The Deer Park:
Because finally after all these years I am deeply curious to know what you think of this.

— but if you do not answer, or if you answer with the kind of crap you use to answer unprofessional writers, sycophants, brown-nosers, etc., then fuck you.
Tough Guy: The Life of Norman Mailer
By Richard Bradford | Bloomsbury | $42.99 | 304 pages